IITA signs MOU with RightMesh to develop a mesh-enabled mobile app to tackle crop disease in Sub-Saharan Africa
20 December 2018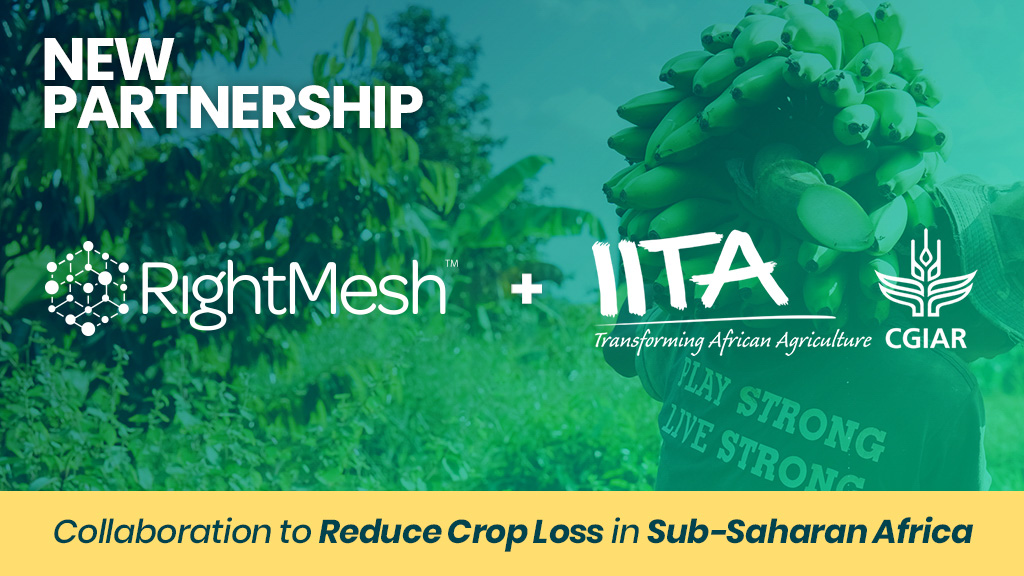 Mesh-enabled app aims to improve crop disease surveillance with remote field surveys and worker/farmer communications without the need for Internet or data.
Zug, Switzerland & Ibadan, Nigeria, December 20, 2018 — The International Institute of Tropical Agriculture (IITA) and RightMesh have signed an MoU to design, development, and test a mobile application that will allow smallholder farmers in sub-Saharan Africa to capture and share data about crop disease without using Internet or mobile data.
In Africa, an estimated 70% of the population depends directly on agriculture for its livelihood. The sector is also under pressure to increase productivity to feed a rapidly growing population in the face of climate change which among others is causing the spread of new pests and diseases.
A lack of tools for early and rapid reporting of emerging diseases have resulted in rapidly-spreading outbreaks leading to epidemics and huge crop loss. Web-based tools for data collection have proven to be effective, however,  for many farmers, connecting to the internet is cost-prohibitive.
This co-created mesh-enabled mobile app will allow smallholder farmers to detect and report new pests and diseases without incurring costs for internet or data. When combined with the plant pathology expertise at IITA, the app will allow farmers, community knowledge workers, researchers, and government agencies to collaborate digitally for an innovative approach to address the early detection, prevention, and intervention of crop disease.
"Working with IITA on a solution that has the potential to lift whole communities out of poverty by improving agricultural performance in East and Central Africa is an excellent use case for the RightMesh platform," said John Lyotier, Co-founder and CEO of RightMesh, "We are honoured to contribute to the solution by enabling connectivity to reach these smallholder farmers who will now have access to the benefits of online community collaboration."
"The RightMesh mobile app takes early detection of pests and diseases to the next level. It will help in increasing information flow between farmers, extension agents, and researchers in the event of a breakout and this will help reduce the vulnerability of smallholder farmers," noted Dr Kenton Dashiell, IITA Deputy Director General Partnerships for Delivery. "This will help reduce the vulnerability of smallholder farmers and contribute towards ensuring food security."
Protecting smallholder farm crops with innovative technology and world leading plant pathology research, the RightMesh – IITA collaboration addresses United Nations Sustainable Development Goals of eradicating extreme poverty, ending hunger and ensuring access to nutritious and sufficient food all year round, building resilient infrastructure, and combating climate change and its impacts.
This mobile application will be tested in Tanzania in 2019.
###
About IITA (International Institute of Tropical Agriculture)
The International Institute of Tropical Agriculture (IITA) is a non-profit institution that generates agricultural innovations to meet Africa's most pressing challenges of hunger, malnutrition, poverty, and natural resource degradation. Working with various partners across sub-Saharan Africa, IITA improves livelihoods, enhances food and nutrition security,
increases employment and preserves natural resource integrity. IITA has a presence in 35 countries in Africa and is the 2018 Africa Food Prize Winner. IITA is a CGIAR Research Center.
About RightMesh
RightMesh AG, a Swiss Company, is on a mission to bring connectivity to the next billion users by multiplying the combined power of blockchain, mobile mesh networking, and its own RMESH tokens. RightMesh wireless networks are self-forming, self-healing, and self-regulating, using various technologies in existing smartphones and IoT devices rather than relying on traditional infrastructure and Internet Service Providers. RightMesh is a software-based mobile mesh networking protocol that is 'infrastructureless' meaning it could be embedded into existing applications or used to build new mesh-enabled applications that do not require additional hardware or Internet connectivity to transmit data between people, applications, or devices over short distances. Initially, RightMesh was an internal project of Left, a Canadian-based multinational media and technology company with holdings in mobile and Internet-based businesses. Left is a certified B-Corp and RightMesh is governed by the same principles of using business as a force for good.
RightMesh AG is located at Gubelstrasse 11 CH-6300 Zug, Switzerland.
Media Contacts
Dana Harvey
CCO, RightMesh
+1–778–929–3262
dana(a)rightmesh.io
Catherine Njuguna
IITA Communications Office
+255 767 361 255
C.Njuguna(a)cgiar.org