Incoming BoT member commends IITA's work in upscaling research for impact
23 April 2021
On 21 April,
Professor Felix Kolawole Salako
, Vice-Chancellor, Federal University of Agriculture, Abeokuta (FUNAAB), visited
IITA
to reacquaint himself with the Institute and find areas of collaboration between IITA and FUNAAB. Prof. Salako is an incoming member of the IITA Board of Trustees (BoT).
Prof. Salako was a researcher at IITA from 1989 to 2000. "I am an IITA investment in FUNAAB because IITA sharpened my research acumen. I learned a lot about research and publication during my 11 years of research in IITA," he said.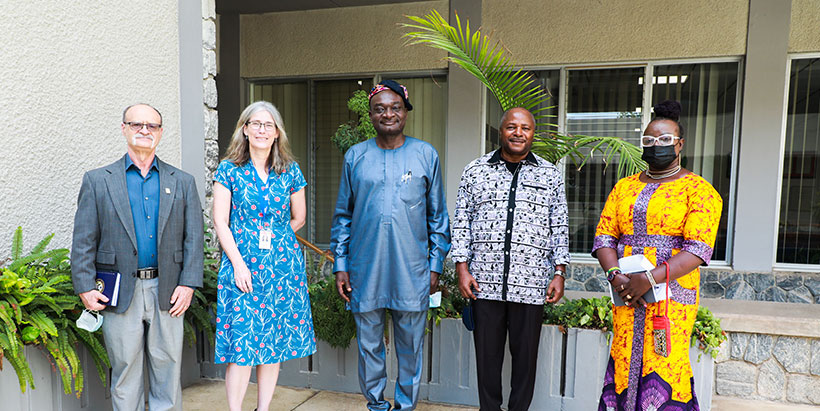 In a meeting, Nteranya Sanginga, IITA Director General with Hilde Koper, DDG Corporate Services, gave the IITA Board Induction and Orientation. DG Sanginga highlighted the role of BoT members to provide oversight and guidance to the Institute.
Speaking about the activities of IITA in the headquarters and hubs, Sanginga shared that IITA is taking responsibility for agricultural research in Africa. "We are building innovations for impact," he said.
After the meeting, Prof Salako went on a tour of the Institute's facilities to see the innovations and explore areas of partnership. As part of the tour, he visited the Emeritus Director, R4D West Africa, Robert Asiedu. He also visited the Virology laboratory, Genetic Resources Center, Bioscience, Aflasafe under the Business Incubation Platform (BIP), and the Youth in Agribusiness Office.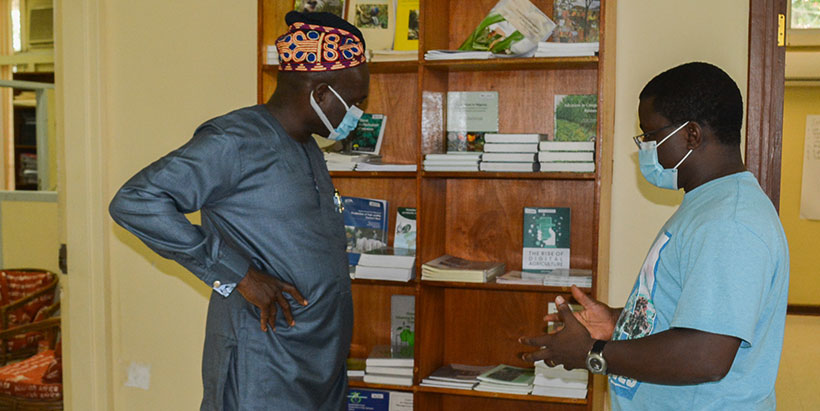 Being a former research fellow in IITA, he met with members of the International Association of Research Scholars and Fellows (IARSAF) to share his experience and things that helped him succeed. Encouraging IARSAF not to settle for less, he said, "Never think you have reached the peak by getting a Ph.D. As long as you are alive, you have not reached the peak, so keep learning."
Visiting his former office, Prof Salako reminisced with the staff and mentioned how the work culture in IITA had helped him beyond the Institute and in his present position. He highlighted efficiency, timeliness, and dedication as significant areas where IITA has impacted him and advised that the culture of IITA should not be taken for granted.
Kwesi Atta-Krah, Director for Advocacy and Country Alignment Function, highlighted the experience and height Prof Salako has attained as an inspiration, especially to younger people, emphasizing that they do not have to settle for where they are now. "You can aim higher," he said.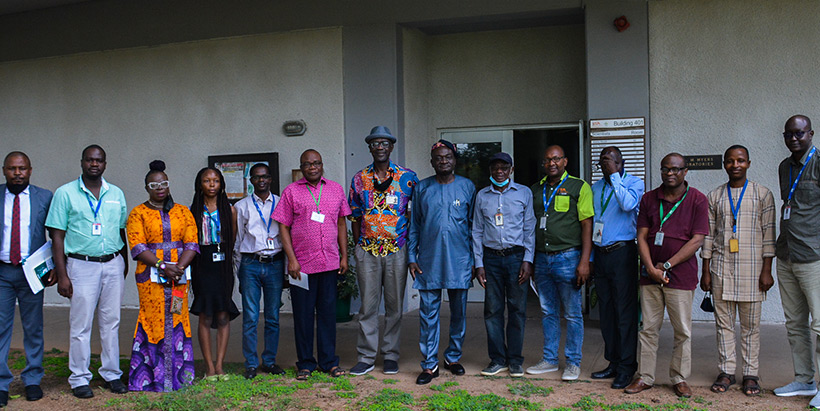 After the tour, Prof Salako communicated how impressed he was about many changes that had occurred since he left, pointing out the many innovations, especially Aflasafe and Nodumax under BIP. He hailed the Institute's work in upscaling research to impact communities.
Highlighting the areas of collaboration with Kenton Dashiell, Deputy Director-General, Partnerships for Delivery, Prof Salako mentioned Knowledge management and Data management as important areas. He also applauded IITA for setting up the Youth-in-Agribusiness platform and extending agriculture and agribusiness to secondary schools. "I would want the agribusiness part to be replicated in FUNAAB," he said.