New project launched to improve rural livelihoods and food security in Mali
26 March 2019
The Climate Smart Agricultural Technologies (CSAT) project was recently launched in Mali. This research-for-development project will promote and scale up technologies to help producers adapt to the effects of climate change. In addition to scaling up existing technologies, researchers will develop additional options to make better technologies available to different actors, including the use of information and communication technologies (ICT) to receive real-time information on climate and crop pests.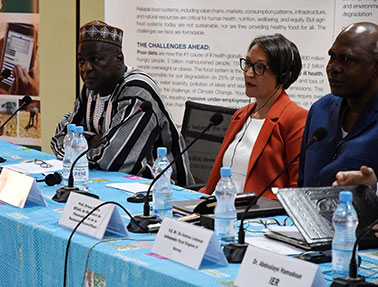 The CSAT project, financed by the Embassy of the Kingdom of Norway in Mali, will run for a period of 5 years (2019-2024). The project aims to (i) reduce poverty and food insecurity; (ii) protect natural resources; and (iii) grow farmers' incomes through increased agricultural productivity, access to markets, and promoting the creation and / or strengthening of agribusiness enterprises, especially those run by women and youth. The project will provide farmers with options to increase their resilience and ability to adapt to the effects of climate change.
At least 20,000 rural households will directly benefit from interventions in four regions of Mali (Koulikoro, Kayes, Sikasso, and Ségou). Overall, project activities are expected to result in more than a 20% increase in crop yield and a 15% increase in household income. The project will strengthen 250 agricultural enterprises and facilitate the creation of 100 new agricultural enterprises run by young people and women. In addition, 600 young graduates and rural people will be trained in agribusiness. Trained youth will benefit from local business-building opportunities and become role models for other young people.
The interventions will have two main components:
The dissemination of intelligent and recognized technologies, ready for use against climate change and,
Research to develop fresh innovations throughout the value chain.
The project will be coordinated by IITA, in partnership with the Institute of Rural Economy (IER), the International Crops Research Institute for Semi-Arid Tropics (ICRISAT), the Norwegian Institute for Research on Bioeconomy (NIBIO), the Department of International Studies in Environment and Development of the Norwegian University of Life Sciences (NMBU-Noragric). Other partners include extension service providers, seed companies, producer organizations, women and youth, and Malian NGOs.