New varieties to boost maize output in West and Central Africa
15 February 2010
Maize production in West and Central Africa is set to get a much-needed boost with the release of improved varieties by the Nigeria National Variety Release Committee. The varieties address many of the major constraints to maize production such as drought, low soil fertility, pests, diseases, and parasitic weeds.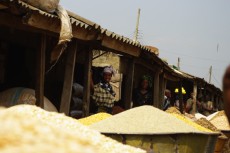 Researchers developed the varieties through conventional plant breeding by tapping naturally-available traits.
The varieties were developed by the International Institute of Tropical Agriculture (IITA) in partnership with the Institute for Agricultural Research (IAR) of the Ahmadu Bello University in Zaria and Institute of Agricultural Research and Training (IAR&T) of Obafemi Awolowo University in Ile Ife, Nigeria.
The released maize include 13 open-pollinated varieties of extra-early-, early-, intermediate-, and late-maturity with resistance to the parasitic weed Striga hermonthica and stem borers, tolerance to drought, and with good adaptation to sub-optimal soil nitrogen. Four hybrids with drought-tolerance have also been released.
The committee also approved two Striga-resistant and two white and two yellow productive hybrids developed at IITA in partnership with Premier Seeds Nigeria Limited. The company will commercially produce and market these hybrids.
Abebe Menkir, IITA maize breeder, says that the release of these varieties will hasten the adoption of improved maize cultivars by farmers in Nigeria, consequently increasing yields, raising farm incomes, and improving food security. The release of the improved varieties has sparked renewed optimism for maize farming in the region.
"These varieties have the potential to provide farmers with opportunities to overcome the challenges to maize production in West and Central Africa," he added.
Maize farmers often suffer from infestation of parasitic weeds and prolonged droughts, rendering their fields harvestless and farming households with little food and insufficient income for most of the year. Low soil fertility is often as devastating as droughts, while stem borers in the forest regions also hurt productivity.
Every year, IITA distributes improved open-pollinated varieties and hybrids to national partners and the private sector within and outside of WCA through regional trials. These trials have been used as vehicles for selecting promising varieties and hybrids adapted to specific conditions in the different countries for extensive testing and later release.
For more information, please contact:
Dr Abebe Menkir, a.menkir@cgiar.org
Maize Breeder
IITA-Ibadan
Jeffrey T. Oliver, o.jeffrey@cgiar.org
Corporate Communications Officer (International)
Godwin Atser, g.atser@cgiar.org
Corporate Communications Officer (West Africa)
Communication Office
IITA – Headquarters
Ibadan, Nigeria
URL: www.iita.org
About IITA
Africa has complex problems that plague agriculture and people's lives. We develop agricultural solutions with our partners to tackle hunger and poverty. Our award winning research for development (R4D) is based on focused, authoritative thinking anchored on the development needs of sub-Saharan Africa. We work with partners in Africa and beyond to reduce producer and consumer risks, enhance crop quality and productivity, and generate wealth from agriculture. IITA is an international non-profit R4D organization since 1967, governed by a Board of Trustees, and supported primarily by the CGIAR.