Nobel Peace and Africa Food Prize winners support sexual violence victims in DR Congo
26 October 2018
Two people from the same village—Prof Denis Mukwege, the co-recipient of the 2018 Nobel Peace Prize, and Dr Nteranya Sanginga, Director General of IITA—that received the 2018 Africa Food Prize, are dedicated to helping 6 million victims of sexual violence in DR Congo.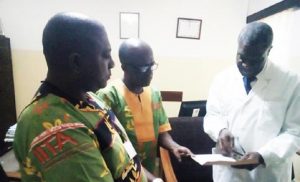 Victims are being treated medically by Prof Mukwege's team at the Panzi Foundation, and then with support from IITA are rebuilding their lives to have a livelihood that would make them financially independent, less vulnerable, and regain self-esteem. Supporting these brave women with agribusiness opportunities along value chains is the key.
The Panzi Foundation and IITA assert that they will continue to work together to make a difference in the lives of those victims and to dedicate time and resources to the betterment of women in general. Dr Sanginga, in his congratulatory letter to Prof Mukwege, wrote that "We, as a partner institution, are extremely proud of the excellent work that you have done, and are always ready to extend our hand in fellowship and friendship."  The awards to both parties at the same time bring to light the urgent need for an integrated approach and concerted efforts to address the plight of vulnerable women, especially victims of sexual violence.
Prof Mukwege has been a dependable partner of IITA for many years. He gave the keynote address at the Women in Agriculture (WIA) conference organized by IITA Kalambo in August 2015. Also, in 2015 IITA partnered with the Panzi Foundation and the International Center for Advanced Research and Training (ICART) to develop a proposal in response to the Bill & Melinda Gates Foundation's call on Putting Women & Girls at
the Center of Development. The project is presently being implemented in Kinshasa due to security challenges in South Kivu.
In his response, Prof Mukwege expressed his appreciation to his "brother DG Sanginga," whom he also congratulated on the 2018 Africa Food Prize Award to IITA. According to him the two awards constitute a challenge to the two institutions—IITA and Panzi Foundation—to increase their efforts towards improving the lot of over 6 million victims of civil war in DRC, especially the women who suffered sexual violence during the conflicts.