NSE explores financial opportunities in IITA
9 September 2017
Representatives from the
Nigerian Stock Exchange
(NSE) met with IITA officials on 25 August in Ibadan to discuss partnership opportunities. The meeting came after IITA's visit to NSE to ring the closing bell in end-June to mark the Institute's 50th anniversary celebrations.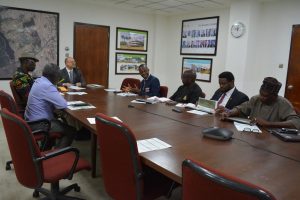 They were received by Kenton Dashiell, Deputy Director General, Partnerships for Delivery, who gave them an overview of IITA. Speaking on behalf of NSE delegates, Ade Bajomo, Executive Director of Market Operations and Technology for NSE, said they were eager to "learn about the research innovations in IITA, and seek ways to merge the agricultural innovations of IITA with financial and entrepreneurial flow that NSE can bring."
"We are delighted to be here. We know that agriculture is essential to the development of Nigeria, so we thought of coming for a visit to underst and what IITA does and explore some of the financial opportunities that are available in IITA," Bajomo stated.
During the tour of IITA facilities, laboratories, and fields, Bajomo expressed amazement over the work being done at IITA as he stressed "We are quite impressed with the professionalism and quality of research going on in this institute. We can see clearly that IITA's research is very important for Africa to survive, and specifically compete in the area of our comparative advantage, agriculture."
Bajomo further advised that all h ands should be on deck to harness and strengthen the development of agriculture.
"As our population increases, it is m andatory that we find innovative ways to develop agriculture and export raw materials and finished products. To achieve this, we need science and technology to come together with financing options; you also need stronger value chain and a bigger ecosystem, which is where NSE comes in," he added.
NSE is part of a sustainable stock exchange association and believes in the UN's sustainable development goals. It is committed to adopting the highest levels of international st andards. As a result, NSE specifically associates with institutions and individuals who showcase best practice and make a big impact in society in general.