Pressing for progress: IITA celebrates Women's Day 2018
13 March 2018
IITA celebrated International Women's Day (IWD) on 8 March with a seminar held at the IITA Conference Center in Ibadan. The event was attended by about 150 staff, with more than 100 connecting via webinar. The theme of the day was "#PressforProgress" and served as a call-to-action for all to push for gender parity and motivate and unite friends, colleagues, and whole communities to think and act in ways to encourage gender inclusiveness.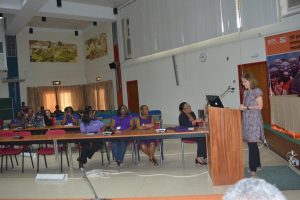 In his keynote address, IITA Director General Nteranya Sanginga appreciated the women and highlighted their accomplishments and milestones in different fields and at various levels of their careers. He also reassured IITA women of his continuous support and commitment as they push for progress while celebrating their social, economic, cultural, and political achievements.
"We cannot address poverty, hunger, and malnutrition in Africa without putting into consideration the constraints faced by women farmers who in most communities provide most of the agricultural labor on the family farm and process food for markets as well as family consumption. Concurring, Hilde Koper-Limbourg, IITA Deputy Director General, Corporate Services, stated that women are the backbone of economic development, and as such, constitute over 75% of the labor force in agriculture. She said "We need to press for progress for a better IITA, better agriculture, and a better world."
Five other speakers
In concluding the seminar, IITA Deputy Director General, Research for Development, May-Guri Seathre, commended the organizing committee and the speakers for delivering inspiring, motivational, and informative speeches. "From all that I have heard, mentorship is the keyword to accelerate progress at national and global levels," she added.
The Human Resource Services organized the seminar in collaboration with the West Africa Hub Administration and Communication Unit. Selected colleagues gave motivational talks on: Advancing women in science, Robert Asiedu, Director, Western Africa Hub; Where we were, where we are, and where we desire to be, Hilde Koper-Limbourg; Yes, we can, Pelumi Eluwole, Financial Analyst; Women in science, Ana Garcia-Oliveira, Postdoctoral Fellow – Crop Genetics and Molecular Breeding; Supporting a dignifying work environment, Joseph Uponi, Analytical Services Manager; and Women in a male-dominated workplace, Boluwatife Olateju, Planning Officer – Construction; all geared towards promoting gender mainstreaming, eradicating gender inequality, and appealing for parity.
International Women's Day is celebrated globally to recognize women for their achievements without regard to divisions, whether national, ethnic, linguistic, cultural, economic, or political. IWD first emerged from the activities of labor movements at the turn of the twentieth century in North America and across Europe.