Raising the profile of yam: Whole genome reference sequencing of a neglected orphan crop revealed
18 September 2017
Ibadan, Nigeria – Researchers have deciphered the complete sequence of one of the major food crops in Africa—the white Guinea yam.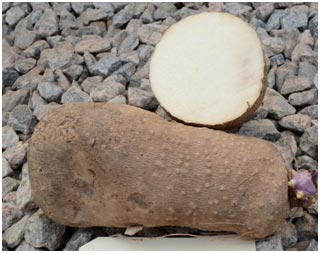 In many parts of West Africa, food is not considered food if it is not yam. This explains why yam—also called the "king of crops" in Nigeria, exemplified in Chinua Achebe's classic novel "Things Fall Apart," is such a prized food with immense cultural importance.
Yam is a major food source in the tropics providing food and income for some 60 million people.
Despite its importance, relatively little is known about the white Guinea yam (Dioscorea rotundata Poir.), the dominant African yam, at the genetic level. Unlike other staple crops such as wheat and rice, the white Guinea yam is not widely cultivated, leading to its br anding as an "orphan crop."
"The more we underst and about the white Guinea yam, the better we will be able to help improve the crop, and help maintain this integral source of nutrition and income in a region undergoing the world's most rapid population explosion—especially as the dem and for yam is currently overwhelming—much more than what we are able to supply," said Dr Robert Asiedu, Director for West Africa, International Institute of Tropical Agriculture (IITA) and Yam Breeder for about 20 years.
To help improve the white Guinea yam, an international team of scientists from IITA, the Japan International Research Centre for Agricultural Science (JIRCAS), the Iwate Biotechnology Research Centre (IBRC), Japan, and the Earlham Institute and The Sainsbury Laboratory of the United Kingdom, has finally revealed the full genome sequence of this poorly understood but vitally important crop.
"This is an important breakthrough. It means that yam has joined those crops with a full genome sequence, such as rice and other better-known crops," said Asiedu.
"The implications are profound. Knowing the full DNA sequence will greatly facilitate our underst anding of how genetics controls key traits such as flowering, diseases, and others including quality traits, and this in turn will make the breeding of new varieties faster and more precise," he further explains.
"The genome resource will help to overcome the many challenges facing yam farmers in Africa and other parts of the world," said Professor Ryohei Terauchi, Kyoto University and Iwate Biotechnology Research Institute, study leader and corresponding author. These include pests and diseases, postharvest losses, and the need to develop more climate change resilient and sustainable systems of farming for the crop. Already, the international team of scientists has identified the genetic region that differentiates male and female plants and has developed a quick and cheap genetic assay (procedure) to tell them apart.
"Distinguishing between male and female plants at the seedling stage can save months for yam scientists. This wouldn't have been achievable with the resources we had without the genome sequence," said Terauchi.
A paper on this breakthrough entitled "Genome sequencing of the staple food crop white Guinea yam enables the development of a molecular marker for sex determination", is openly accessible in the journal BMC Biology and the high quality draft genome sequence is available in the public databases DNA Data Bank of Japan (DDBJ) and US National Center for Biotechnology Information (NCBI).
###
About IITA, iita.org
The International Institute of Tropical Agriculture (IITA) is a not-for-profit institution that generates agricultural innovations to meet Africa's most pressing challenges of hunger, malnutrition, poverty, and natural resource degradation. Working with various partners across sub-Saharan Africa, we improve livelihoods, enhance food and nutrition security, increase employment, and preserve natural resource integrity. IITA is a member of CGIAR, a global agriculture research partnership for a food secure future.
About JIRCAS, https://www.jircas.go.jp/en/top
The Japan International Research Center for Agricultural Sciences (JIRCAS) was established in October 1993 through the reorganization of its predecessor, the Tropical Agriculture Research Center (TARC), to include overseas forestry and fisheries research in its m andate. It was again restructured in April 2001 as an Incorporated Administrative Agency under the Ministry of Agriculture, Forestry and Fisheries (MAFF).
Media contacts
Katherine Lopez, Head of Communication, k.lopez@cgiar.org, +234 803 978 4454