Scientists make breakthrough in identifying first-ever genetic markers associated with resistance to two deadly cassava viral diseases
23 August 2017
Dar es Salaam – Why are these two cassava varieties—Namikonga and Albert—grown by farmers in Tanzania, able to withst and the devastating Cassava Brown Streak Disease (CBSD) and Cassava Mosaic Disease (CMD), respectively, while other varieties cannot? A team of scientists that has been studying their DNA have successfully identified the genetic markers linked to their resistance to each of the viral disease. The markers  can be used to speed up the often long and expensive conventional breeding for cassava varieties with dual resistance to the diseases.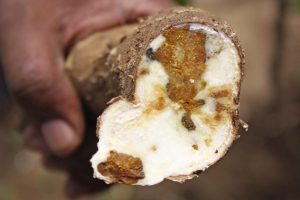 Namikonga and Albert, which are genetically related, have been grown by farmers in areas that are hotspots for the two viral diseases for many decades and have shown high resistance despite being subjected to the diseases for a long period. Namikonga is tolerant to CBSD but highly susceptible to CMD while in contrast, Albert is highly susceptible to CBSD but resistant to CMD.
The international team, drawing scientists from Tanzania, Kenya, South Africa, and the United States, crossed the two Tanzanian varieties and studied a large population of the progeny over two seasons in two disease hotspot areas in the country. They detected the main resistance to CBSD on chromosomes 2 and 11 and that of CMD on chromosome 12. Several other genomic regions in different chromosomes had a minor influence on the expressed resistance.
The team has published their findings in a paper "QTL associated with resistance to cassava brown streak and cassava mosaic diseases in a bi-parental cross of two Tanzanian farmer varieties, Namikonga and Albert" in the Theoretical and Applied Genetics: International Journal of Plant Breeding Research.
CMD and CBSD are among the greatest constraints to cassava production crop in East, Central and Southern Africa where cassava is a major crop for both food and, income for millions of small-holder farmers as nearly all cassava varieties grown by farmers are susceptible to either one or both diseases. In Tanzania, the second largest producer of cassava in East Africa after Ug anda, the diseases have reduced cassava yield by over a half from 10.5 tons/hectare to only 5.5 tons/hectare in the last twenty years.
Efforts to control the diseases in East Africa were initiated in the early 1930s at the East African Cassava Research Institute at Amani in North-eastern Tanzania.     Due to a lack of resistance in cassava varieties, the breeders made crosses with wild cassava species and they successfully developed several hybrids. Namikonga is suspected to be one of them but has subsequently been adopted by the local communities and given a local name. To date, Namikonga is one of the best sources of CBSD resistance in conventional breeding programs. Namikonga and Albert are genetically related through a West African cassava variety TME117.
"The studies have enabled us to better underst and the location of genes we suspect are associated with resistance to CBSD in the DNA of the farmer-preferred cassava variety, Namikonga, and CMD in the variety Albert. Once validated, this will help speed up breeding through marker-assisted selection (MAS) which shortens the breeding cycle and reduces the offspring population that breeders have to work with. Breeders will be able to quickly narrow down from the thous ands of offspring to only those with the desired markers," says Esther Masumba, a molecular breeder from the Ministry of Agriculture, Livestock and Fisheries, Tanzania. She was part of the research team and conducted this study as part of her PhD studies at the University of Pretoria, South Africa.
Most of the cassava breeding programs in Africa use purely conventional breeding methods that are laborious and expensive due to long breeding cycles and the need for large field trials. The application of molecular markers in breeding and selection of crop varieties can both reduce breeding time and costs.
"We are very happy with the findings of our studies which are a result of over six years of research. It is an important milestone in the efforts to revive cassava production in East, Central, and Southern Africa where the two diseases are still a major problem that continues to threaten the region's food security".
"For West Africa, where there is great fear of CBSD spreading and with devastating effects on the food security, the markers can assist in pre-emptive breeding," adds Morag Ferguson a molecular breeder from the International Institute of Topical Agriculture (IITA) and also one of the team members.
The research team will now continue to validate these markers for their applicability in marker assisted breeding (MAB).
# # #
About IITA
The International Institute of Tropical Agriculture (IITA) is a not-for-profit institution that generates agricultural innovations to meet Africa's most pressing challenges of hunger, malnutrition, poverty, and natural resource degradation. Working with various partners across sub-Saharan Africa, we improve livelihoods, enhance food and nutrition security, increase employment, and preserve natural resource integrity. IITA is a member of CGIAR, a global agriculture research partnership for a food secure future.
For more information, please contact: Catherine Njuguna, IITA communication Officer for Eastern Africa, c.njuguna@cgiar.org / Katherine Lopez, Head of Communication, k.lopez@cgiar.org