Second Nigeria Zero Hunger Forum held in Ebonyi State
16 November 2017
The second meeting of the Nigeria Zero Hunger Forum (NZHF) was held in Ebonyi State on 7–8 November.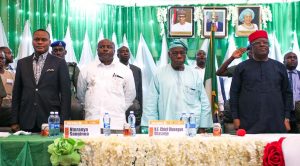 Led by former President of Nigeria and IITA Goodwill Ambassador, Chief Olusegun Obasanjo, the meeting was attended by more than 500 participants including policymakers and development partners, and discussed the progress made by Ebonyi State towards the attainment of zero hunger. Other participants included State Governors along with representatives from the donor and international community, including IITA, and members of the press.
Obasanjo said he is impressed with the impact the NZHF is making, especially in promoting healthy competition among the states in their drive to achieve food security. The first NZHF assembly had been hosted by Benue State in June.
"I see a healthy competition between states which is good," Chief Obasanjo said as participating governors recounted progress made towards food security in their respective states.
The governors said that the Zero Hunger initiative was already having a positive impact on the food security of their states and all in less than a year. According to them, the initiative through its peer advisory/review mechanism has brought a new vigor and zeal to the agricultural sector with more commitments by participating states.
They also commended President Muhammadu Buhari for his strong support to the states' agricultural programs.
According to Governor Samuel Ortom of Benue State, thanks to the NZHF, there is now a realization that agriculture has untapped opportunities that the state can explore to benefit its people.
Governor Ortom said the state has keyed into the initiative and is confident that it would help the state to maintain its pride as the food basket of the country. "We believe that NZHF will help Nigeria," he added.
Ebonyi State governor, David Umahi, said that the benefits of the NZHF initiative were priceless as participating states were learning from each other. The Governor of Borno State, Alhaji Kashim Shettima, who was represented by his deputy, Alhaji Usman Mamman Durkwa, expressed gratitude to the NZHF for the support given to the state early this year to cushion the effects of insurgency. Particularly mentioned were the "seeds of renaissance" provided by IITA, AfricaRice, and ICRISAT, and the rice from Ebonyi State to feed the internally displaced persons in Borno State.
The President of the African Development Bank, Dr Akin Adesina represented by the Director (Agriculture), Dr Chiji Ojukwu, commended the implementation of the initiative and reiterated the Bank's support to feeding Africa. He reminded stakeholders that Africa must take agriculture seriously and implement policies and programs that would engender inclusive growth. Speaking at the forum, IITA Director General Nteranya Sanginga pledged the Institute's commitment to support and work with states to achieve their food security goals.
Participants included, among others, Abiodun Oladipo, World Food Program; Abraham Shaibu, AfricaRice; Tawanda Muzhingi, International Potato Center (CIP); members of Ebonyi State Executive Council, representatives from the Federal Ministry of Agriculture and Rural Development, academia, the private sector, farmer groups, traditional rulers, and the press.