Stakeholders strategize ways to prevent MLN in West Africa
6 October 2017
Stakeholders came together in a workshop to discuss and prioritize action plans for preventive control of the
Maize Lethal Necrosis
(MLN) in maize production, on 26 September at IITA, Ibadan.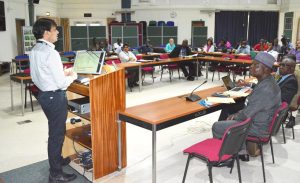 The workshop titled "Strategic planning to prevent spread of Maize Lethal Necrosis" aimed to raise awareness about the status of MLN spread and progress towards control in affected regions in East Africa.
Maize breeders, scientists, staff, and students from Plant Protection and Regulatory Services Directorate (PPRSD) Ghana, National Agricultural Seeds Council (NASC), Nigerian Agricultural Quarantine Services (NAQS), the International Maize and Wheat Improvement Centre (CIMMYT), and IITA, attended the workshop with a shared vision of pulling together national, regional and international partners to combat the spread of MLN, support seed companies to produce Maize chlorotic mottle virus (MCMV)-free commercial seed, spread improved farming practices for disease control, and create a "community of practice" for disease diagnosis and management.
The MLN disease, which appeared in the region in 2011, was first reported in Kenya. The disease has caused major losses to maize crops of up to 90%, resulted in an estimated grain loss of 126,000 tons valued at $52 million in Kenya alone, and decreased food security. This emerging threat is now endemic in much of East Africa, and has been reported and confirmed in DR Congo, Ethiopia, Kenya, Rw anda, South Sudan, Tanzania, and Ug anda.
Speaking at the opening ceremony, Robert Asiedu, Director, Research for Development, IITA-West Africa, represented by Michael Abberton, IITA Deputy Director, Research for Development, West Africa, and Head, IITA Genetic Resources Center, commended all the participants for their efforts towards making the meeting a huge success, and urged them to seize the opportunity to integrate, educate, and exchange ideas on strategies to fight and prevent the menace.
In addition, Abebe Menkir, Leader, IITA Maize Program, applauded the participants, as he said: "I welcome you all to this very important meeting; MLN has been a significant challenge affecting maize production. I am looking forward to seeing positive contributions and a solid approach towards preventing the further spread of MLN in Eastern Africa."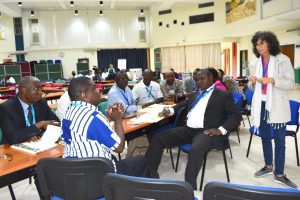 Lava Kumar, Head, IITA Germplasm Health Unit and focal point for the Conference, emphasized the importance of collaborative effort, partnership, and commitment in developing a prevention and disease management strategy. Director of CIMMYT's Global Maize Program, Boddupalli M. Prasanna, was of the view that all stakeholders should prepare to learn, raise awareness, and replicate all the knowledge acquired to achieve a substantial result.
During the plenary session, there was a discussion on strategies for MLN prevention and preparedness. Stakeholders deliberated on ways to identify and prioritize strategy, needs, partnerships, capacity development, and funding for improving phytosanitary policies, prevention and emergency control action in the areas of quarantine monitoring, safe production of maize seed, and preemptive breeding.
The disease is a result of infection by MCMV, and cereal viruses in the Potyviridae group, especially Sugarcane Mosaic Virus (SCMV), which causes an estimated 30% to total crop loss in farmers' fields depending on the severity of the incidence, posing a threat to regional trade. Hygienic practices, crop rotation, effective surveillance, monitoring systems, and use of pesticides for insect vector control, are some of the methods that could be used for MLN/MCMV control.
In concluding the meeting, the stakeholders embarked on a tour of the Virology and Germplasm Health Unit, Genebank, and Bioscience Center and expressed amazement at IITA's groundbreaking research.