Sudan delegation visits IITA, initiates collaboration, and signs MoU for introducing cassava
16 November 2018
A 6-member delegation from the University of Khartoum (UofK), and the Office of the President, Sudan, visited IITA on 6–10 November to familiarize themselves with the Institute, exchange ideas, explore areas for collaboration, and sign a memorandum of understanding (MoU).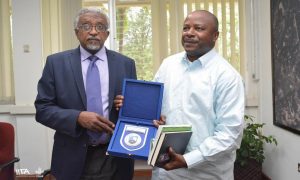 The 5-day exploratory visit was led by Prof Ahmed Mohamed Suliman, Vice-Chancellor of UofK, and Dr Abuelgasim Elzein, Head, Department of Agricultural Biotechnology, also a former scientist with IITA, and accompanied by Abdalla Higazi and Hala Ahmed Elamin, both from the Internal Political Affairs unit of the office of the Sudan President and two other professors from the University. Receiving the delegation, IITA Director General Nteranya Sanginga gave an overview of the Institute's achievements and success stories from inception to date and highlighted the efforts made to generate agricultural innovations to meet Africa's most pressing challenges of hunger, malnutrition, and poverty, and secure the path to food security.
"We are ready to expand into Sudan with a strengthened diversified portfolio to contribute to improved livelihoods and incomes for small-scale farmers in the country. We are optimistic that this collaboration will put smiles on the faces of the Sudanese," he added.
Stating the purpose of their visit, Suliman said, "UofK is leading an initiative to adopt one of the best-bet proven technologies developed by IITA which is High Quality Cassava Flour (HQCF) and its processing techniques for which IITA is known worldwide and has made significant breakthroughs, achievements, and impacts. UofK has plans to adopt and promote this technology with strong support of the Presidential Office of the Republic of the Sudan to make up for the shortage in wheat flour. Our Presidential Office is very much interested in supporting the inclusion of HQCF in bread and other forms of confectionery as part of efforts to improve food security and the livelihoods of farmers in the country. On that note, I would initiate an immediate development of an MoU with IITA to serve as a guide to common interests between the two institutions," he added.
Elzein corroborated this stating, "Even though the Republic of Sudan is not a cassava-producing country, I know that as soon as the cassava breeding program is replicated in our farming system, agriculture will take a new dimension. With that in place, HQCF will be available to make bread and other confectionary. As an IITA alumnus, I assure you that I will continue to be an active ambassador for IITA in my home country Sudan and in other relevant occasions. I am optimistic that this collaboration would open more opportunities for Sudan and strengthen future fruitful linkages with IITA and other institutional partners.''
Due to the strong motivation indicated by the Sudanese delegates, the two organizations officially signed a memorandum of understanding.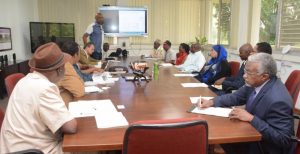 Discussions were held regarding the type of cassava technology to be introduced in the country, soil topography, climatic conditions and action plans for immediate implementation. Alfred Dixon, Director of the Development and Delivery Office said, "Cassava is the third largest crop in the tropics, and a major staple food in sub-Saharan Africa, providing a basic staple for over half a billion people. It is one of the most drought-tolerant crops, capable of growing on marginal soils. However, with the help of cassava experts from IITA and good agronomic and weed management practices, I am certain that in no distant time, Sudan will be known for cassava production," he added.
During the tour of the Institute's facilities including the GoSeed facility, Semi Autotrophic Hydroponics, Bioscience laboratory, fabrication workshop, and I-House pastry section, VC Suliman asserted: "Having taken a close look at IITA's unique innovation and with the Institute's technology developers, I must confess that I have identified more areas of collaboration. But first, we will start with the production and processing of cassava, machine fabrication for cassava processing, and rapid multiplication of clean seeds. I am sure the Sudan President will be excited to know that our mission was successful!"
Highlights of the 5-day visit include presentations by key IITA staff; Frederick Schreurs, CEO Business Incubation Platform; Ismail Rabbi, IITA Molecular Geneticist/Breeder, Festus Okunlola, IITA Youth Agripreneur (IYA); Iheanacho Okike, IITA Cassava Peel technologist; and Thierno Diallo, IITA Machine Fabricator, all directed towards showcasing the benefits of cassava and its role in economic development. The delegates also had the opportunity to undergo hands-on training at the IITA Food and Nutrition Science Laboratory on how to bake bread, croissant, chin-chin, and Tidbits using HQCF.