TAAT launch signifies new day for African agriculture
8 February 2018
IITA hosted scientists, technologists, economists, development partners, and program specialists from partner organizations to inaugurate
Technologies for African Agricultural Transformation
(TAAT), in Ibadan on 22–24 January. TAAT, a multi-year, multi-partner program, was conceptualized based on "Africa Feeding Africa" as a pillar of the Feed Africa Initiative of the
African Development Bank
(AfDB). It aims to bring agro-technologies to scale among farmers in Africa.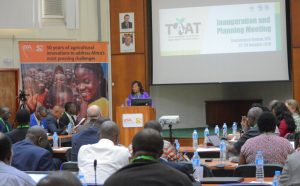 In his welcome address, IITA DDG, Partnerships for Delivery, Dr Kenton Dashiell, commended the spirit of enthusiasm and cooperation among participants. He said: "If I would bring a group of people together to make plans for transforming agriculture in Africa, this is the team I would pick." He urged participants to go into countries and do country planning as "real success will only come by working together with teams within a country that align perfectly with the goals of that country and what the governments see as their priorities for agriculture."
In his opening remarks, Dr Martin Fregene, the new Director of Agriculture and Agro-Industry, of AfDB, was very appreciative of all participants while reiterating the commitment of the Bank to African agricultural transformation. He shared the story of the transformation experience of the Brazilian agro-sector that saw them move from heavy dependence on food imports to agriculture becoming a $100 billion sector. He encouraged the participants to work with donor partners, such as the Bill & Melinda Gates Foundation and the Alliance for a Green Revolution in Africa (AGRA), to convince governments that they have the right technologies to change Africa's $35 billion per year food import bill and making agriculture a highly productive and profitable sector. He also charged them to talk with those in the private sector, such as the seed companies and extension organizations, saying, "With the backing of the donor community we will achieve that."
AfDB's Chief Agricultural Economist and TAAT Program Coordinator, Dr Jonas Chianu, gave an overview of the TAAT Program, stating that technologies are already available in Africa but issues such as country borders and insufficient attention to private sector value chains were constraining factors to scaling of these technologies on a regional level in the continent. He said national boundaries are hindering the widespread adoption of these technologies whereas the "problems we are contending with are not subject to these boundaries."
Chianu also noted that low agricultural productivity and value addition are at the heart of the malnutrition, unemployment, and income challenges in Africa. These have ensured that African agriculture has continued to underperform as it accounts for 60–70% of employment in African countries but produces only 25% of Africa's GDP. The TAAT program has been put together to change this narrative.
One of the many opportunities in TAAT is the building of strategic alliances among key development partners such as AfDB, World Bank, AGRA, Gates Foundation, Rockefeller Foundation, International Fund for Agricultural Development (IFAD), Food and Agriculture Organization (FAO), US Agency for International Development (USAID), Department for International Development (DFID), and French Development Agency (AFD). This collaboration will lead to advancement of agricultural development in Africa working with international, regional, subregional, and national centers of excellence (including CGIAR centers) and the private sector.
TAAT is not a research program; it was formulated solely for the dissemination of proven technologies that have already been developed by the agricultural research and development system. TAAT will add extra value by leveraging crop and livestock technologies that have been validated in one or a few countries across entire agroecological zones (AEZs) covering many countries. The TAAT program is expected to result in a Regional Technology Delivery Infrastructure (RTDI) with an emphasis on AEZs and priority commodities that will reach 40–50% of African farmers with the most relevant food production technologies by 2025. TAAT also aims to tackle pests and diseases, such as Fall Armyworm (FAW), across entire regions.