Tanzania makes headway in battle against cancer-causing aflatoxins
3 September 2018
Dar es Salaam 03 September 2018.
Tanzania will soon join other countries in Africa in rolling out its country-specific, safe, and effective technology for reducing contamination of food and feed by the cancer-causing, poisonous aflatoxins making them safe for human and livestock consumption and to meet st andards for export.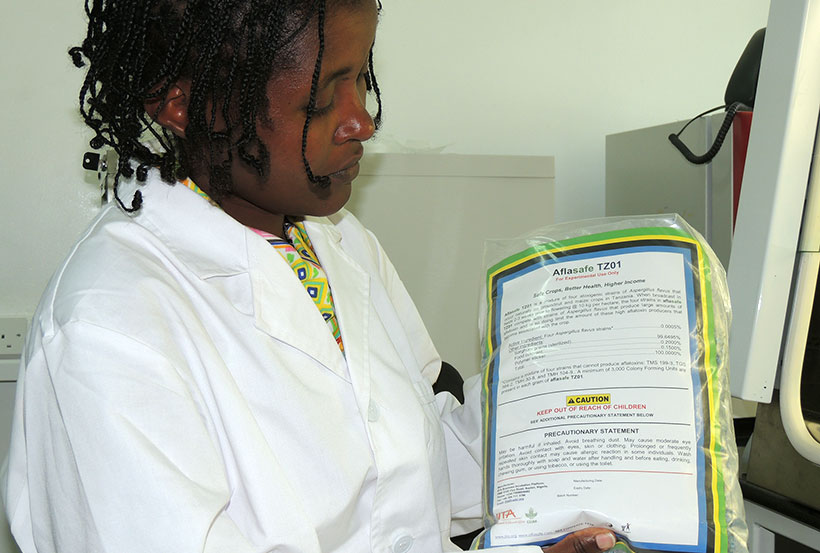 The technology, known as Aflasafe TZ, was developed by the International Institute of Tropical Agriculture (IITA) in partnership with the Ministry of Agriculture with support from USAID. Its registration by the Tropical Pesticides Research Institute is almost complete and the IITA-led Aflatoxin Technology Transfer and Commercialization initiative (aTTC) is facilitating its commercialization to ensure it is widely available and accessible to the farming community.
aTTC has initiated the design of a strategy to guide the commercialization of Aflasafe products with technical support from Dalberg Global Development Advisors and Chemonics International. This strategy outlines market projections, manufacturing feasibility, and distribution scenarios. It also looks at the investors' l andscape as well as enabling interventions required to increase the uptake of Aflasafe in the country.
IITA and the partners have organized an investors forum to share the findings with stakeholders and to engage them on the business opportunities available in the manufacturing, distribution, and marketing of Aflasafe on Monday, 3 September 2018. The meeting brings together private sector players, policymakers, researchers, the farming community, and development partners.
"This meeting is very important in efforts to reduce aflatoxin contamination in Tanzania. After more than six years of research, AflasafeTZ is ready for the farmers' fields. We will therefore deliberate together to identify the most strategic way and the most strategic partnership to ensure Aflasafe reaches all maize and groundnut farmers in the country," said Abdou Konlambigue, Managing Director of aTTC.
Aflatoxin, which has no taste, color, or smell, is a deadly toxin. It is a known carcinogen responsible for liver cancer in people exposed to the poison through consumption of contaminated food while extreme poisoning causes instant death. It also causes irreversible stunting in children and lowered body immunity. Livestock are also affected. Another impact of aflatoxin is loss of trade.
Aflatoxin is produced by the naturally occurring Aspergillus fungi found in soils and infects crops, especially maize and groundnut, while in the field. Aflasafe is made up of fungus too, but of strains that can effectively out-compete and displace those that produce aflatoxin, thus reducing aflatoxin contamination by 80‒90%.
"The Aflasafe technology was developed by the United States Department for Agriculture–Agriculture Research Services (USDA‒ARS). IITA and partners have been working on adapting it to Africa as part of our efforts to ensure the continent attains food security. The technology is already registered and commercialized in Burkina Faso, Ghana, Nigeria, Kenya, Senegal, and The Gambia," said Victor Manyong, IITA Director for Eastern Africa.
Once the right production pipeline is underway, Tanzania will have made a major step in ensuring food in the country is safe for its people and reducing the disease burden associated with aflatoxin contamination. The country will also be able to export the surplus, thus creating additional income for the farming community and revenue for the country.