UF and IITA sign pact for joint agricultural research for Africa
26 October 2017
Des Moines, Iowa – An American university and a leading Africa-based international research institute are bringing their scientists together to step up the science of fighting hunger, poverty, and pollution.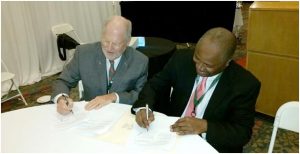 The University of Florida's Institute of Food and Agricultural Sciences (UF/IFAS) pursued the initiative with the International Institute of Tropical Agriculture (IITA) to exp and its efforts in Africa.
"Africa has two great sources of appeal from a scientist's point of view," said Jack Payne, leader of UF/IFAS. "For one, it offers a great opportunity to put science to work improving lives. In addition, it is home to a corps of talented scientists such as those at IITA who are invaluable partners in that science."
Payne signed the agreement during the World Food Prize events in Iowa, a gathering of the world's leading experts in agriculture who deliberated on ways to lift people out of poverty and to feed a world population expected to rise to 10 billion by 2050.
Director General Nteranya Sanginga signed the agreement on behalf of IITA. He did so after participating in a panel discussion organized by UF/IFAS on the fall armyworm's threat to African food security.
"IITA and UF/IFAS share a common approach to science. We see discovery as a source of solutions, a catalyst for action, and the foundation for international cooperation," Sanginga said. "Combining our expertise will accelerate inquiry and is expected to hasten the identification of solutions to address the fall armyworm problem."
IITA is marking its 50th year as an agricultural research institute working with international partners to improve livelihoods and nutrition, and preserve natural resources. UF/IFAS celebrated its 50th anniversary in 2014.
Sanginga is a founding member of the Fall Armyworm Science Advisory Board that UF/IFAS convened in Iowa. The Board seeks to combat the rapid spread of an insect that threatens maize crops on which 200 million Africans depend for food security.
"UF/IFAS needs African expertise if it hopes to make a great impact on African challenges. Dr Sanginga and IITA are world renowned not only for their expertise but for their willingness to share that expertise with other organizations," Payne said.
The five-year pact between IITA and UF/IFAS is a broad framework for cooperation. It lays the foundation for the identification and implementation of specific, joint scientific projects.
END
About UF/IFAS, ifas.ufl.edu, social media: @UF_IFAS
The mission of the University of Florida Institute of Food and Agricultural Sciences is to develop knowledge relevant to agricultural, human and natural resources and to make that knowledge available to sustain and enhance the quality of human life. With more than a dozen research facilities, 67 county Extension offices, and award-winning students and faculty in the UF College of Agricultural and Life Sciences, UF/IFAS works to bring science-based solutions to the state's agricultural and natural resources industries, and all Florida residents.
About IITA, www.iita.org social media: @IITA_CGIAR
The International Institute of Tropical Agriculture (IITA) is a not-for-profit institution that generates agricultural innovations to meet Africa's most pressing challenges of hunger, malnutrition, poverty, and natural resource degradation. Working with various partners across sub-Saharan Africa, we improve livelihoods, enhance food and nutrition security, increase employment, and preserve natural resource integrity. IITA is a member of CGIAR, a global agriculture research partnership for a food secure future.
Media contacts
UF/IFAS: Chris Moran, chrismoran@ufl.edu
IITA: Katherine Lopez, k.lopez@cgiar.org