Virologists discuss alleviating plant virus disease impact on food security in Nigeria at first national conference
6 December 2019
The Nigerian Society for Plant Virology (NSPV) held its maiden conference at the
IITA
Ibadan campus to inaugurate the society and discuss ways plant virology can improve food security in Nigeria such that its impact spreads throughout Africa. The conference, which was held from 28 to 31 October, assembled over 70 scientists and students from the field of virology.
For 48 years, Prof Stephen Soyinka—initiator and founding president of NSPV—has been passionately canvasing for a dedicated society for plant virologists to address the various issues associated with plant virology in Nigeria. "I am happy to see the realization of this goal and witness participation of so many virologists congregated here today," he said. He appreciated IITA for its support and for hosting the event on its campus, which has played a significant role in developing virology capacity in Nigeria and sub-Saharan Africa.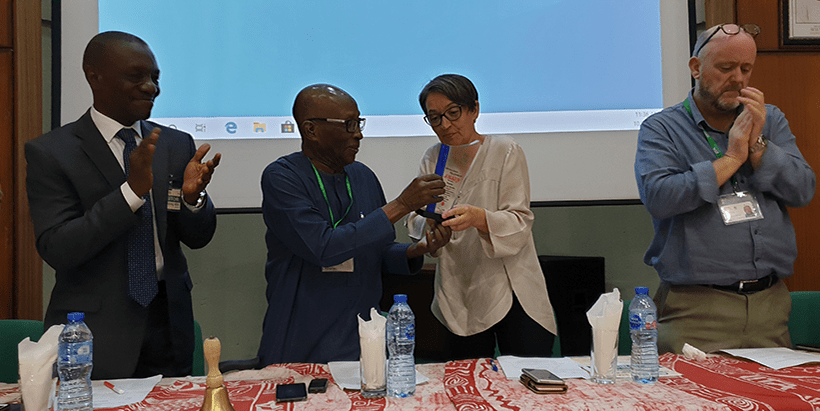 Prof Okon Ansa, Vice President of NSPV, accompanied by Prof E.I. Ayo-John (Federal University of Agriculture Abeokuta), General Secretary of NSPV and Prof B.O. Odu (University of Ife), Chair of the NSPV conference organizing committee, formally inaugurated NSPV. Prof Ansa welcomed and appreciated all the participants, especially the young generation virologists, for their commitment to attend and ensure success.
May-Guri Saethre, IITA Deputy Director General Research for Development, representing IITA Director General, Nteranya Sanginga, inaugurated the 1st NSPV conference themed "Plant Virology for Food Security." Saethre mentioned that Nigeria is one of the few countries in sub-Saharan Africa to hold a plant virology conference with over 70 people in attendance. She congratulated NSPV and added: "IITA is proud of its virology contributions achieved in collaboration with a number of partners in solving some of the most pressing virus diseases threatening food security in SSA." She continued, "I believe through this conference, knowledge will be exchanged for greater works."
Michael Abberton, Head of Genetic Resources Center, welcomed participants on behalf of the IITA Director for West Africa hub and appreciated NSPV efforts and its emphasis on virology studies in relation to climate change.
While giving his keynote address, Lava Kumar, Head of IITA Virology and Molecular Diagnostics Unit, highlighted emerging challenges to food security. "The African population is about 1.1 billion and will likely cross 2 billion by 2050. We have 30 years to increase production to meet food demand, and one way to address it is by controlling yield-limiting factors such as virus diseases," he said. "Virus diseases have the greatest impact on food security in Africa," citing the examples of cassava mosaic disease, cassava brown streak, maize lethal necrosis, banana bunchy top, and rice yellow mottle. He also mentioned that virology research helped to find solutions to several virus diseases, such as maize streak and cassava mosaic, but more needs to be done to increase adoption. He also mentioned the need for coordinated efforts to tackle viruses and emphasized the need for strengthening capacity to enable R&D programs to find solutions to virus diseases.
IITA is the bedrock of virology in Nigeria as virology research started in the Institute, especially on food crops. As an institute whose mission is to enhance food security in Africa, IITA has trained virologists from inception "including most of those present at the conference," said Kumar. However, not just IITA but CGIAR is also making huge contributions to African virology.
Prof Ansa, in his lead presentation, noted the historic developments of virology in Nigeria, starting from the outbreak of cocoa swollen shoot disease in the 1940s, and the role played by Prof Soyinka and the support of IITA. He highlighted the need for regional centers of excellence in virology in the four sub-regions of Nigeria.
Despite the challenges virologists have faced while carrying out virology research, ranging from funding to infrastructure and weakness of the national capacity in virology, there have been major successes and contributions not only in Nigeria but also in Africa. Some areas of note are capacity development, the development of diagnostic tests for viruses, international collaborations, and fund mobilization for virology research to mitigate viruses in the field.
According to Prof Ansa, the conference achieved its goal of improving the discipline of virology through training such that trained virologists can contribute to the virus/disease management in the country, so enhancing food security. Almost 70% of the participants are in the age group of 20 to 35, which is a big positive for the future of virology, said NCPV Vice-President, Prof Ansa. Members of NSPV shared the progress that has been made in virology through presentations of their research work. This was meant to help virologists foster new partnerships and find useful information for application. In addition, future needs such as facilities and funding requirements for virology research were identified.
The conference concluded by adopting a draft constitution, executive board, and recommendations for future actions, including hosting of the 2nd NSPV conference at IITA in 2020.