Women in agriculture: The extra value we bring
7 March 2018
The women of IITA join millions around the world in celebrating the International Women's Day (IWD) today, 8 March. The theme of this year's celebration is 'Pressing for Progress' and as part of this observance, we highlight a few thoughts from some of our women.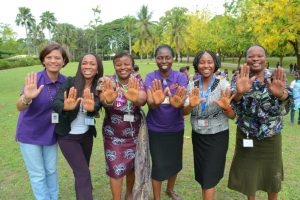 "According to the FAO, women are responsible for more than 50% of agricultural food production in the world and in sub-Saharan Africa. Yet they still occupy the lowest rungs of the economic ladder and are considered the poorest of the poor," says Adebola Adewole. We are thus encouraged to spare a thought for rural female farmers in this IWD piece. Although some scientists feel that parity for women has not really moved, there are encouraging opinions and stories that show how the lives of some of our African sisters are being transformed because of the work that institutions like IITA and the CGIAR do.
In an interview, IITA Gender Specialist Sounkoura Adetonah talks about the progress of female farmers in sub-Saharan Africa and what can be done to accelerate change and gender parity.
Renee Bullock, Postdoctoral Fellow on Gender Research, and collaborator Bonaventure Munzunghirwa discuss the resilience of DRC women in their blog post about a project that aims to strengthen livelihood strategies of vulnerable women. Bullock collaborates with Rosalie Biaba and Kanigula Mubagwa, Professor from the University of Leuven, on another post highlighting the push for economic change by a DRC women's group.
In another piece, GREAT Fellow Durodola Owoade, from IITA's Cassava Breeding unit, writes about supporting cassava production using innovative and gender-responsive farming practices to help unlock a positive future for women in agriculture.