World Bank to work with IITA in DRC
15 August 2019
On 8 August,
World Bank
Country Director in Africa,
Dr Jean-Christophe Carret
, embarked on a successful tour of the
IITA
Kalambo Station in the Democratic Republic of Congo (DRC). His visit was part of the implementation of the Integrated Project for Agricultural Growth in the Great Lakes [Projet Intégré de Croissance Agricole des Gr ands Lacs (PICAGL)] activities.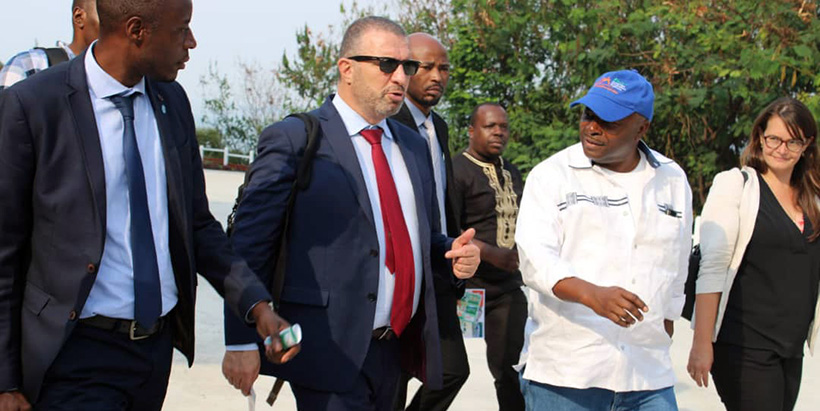 IITA Director General, Dr Sanginga Nteranya, and the IITA-Kalambo team received Carret and briefed him on the project to establish fields for the multiplication of cassava varieties and other activities in collaboration with Burundi as part of the regional integration of the project.
Carret visited the station also to underst and the activities of IITA in DRC. He expressed his pleasure with the Institute's work and facilities, and promised to work with IITA in the country as a partner in agricultural activities. Carret also said the World
Bank will invest US$5 billion in DRC over the next five years.
IITA is involved in the PICAGL project in the plain of Ruzizi in partnership with National Institute for Agricultural Studies and Research [Institut National d'Etudes et Recharches Agronomiques(INERA)] and National Seed Service (SENASEM). Other collaborators include universities, Provincial Inspectorate of Agriculture, Fisheries and Livestock (IPAPEL), and the National Center for Scientific Research (CNRS).
Other development partners are RIKOLTO, Vétérinaire Sans Frontière Belgique (VSF Belgium), which serves as a technical partner in implementing the cassava, rice, milk-related value chain activities, the International Center for
Tropical Agriculture (CIAT), natural resource management with World Agroforestry (ICRAF), and the International Food Policy Research Institute IFPRI).