YIIFSWA-II project demonstrates business opportunities in seed yam production using new technologies
2 November 2018
The production of high-quality seed yam tubers of released varieties using revolutionary high ratio propagation technologies (HRPTs) such as the Temporary Immersion Bioreactor System (TIBS) and the aeroponics system (AS) presents new business opportunities for yam producers in Nigeria and Ghana to intensify food production for economic gain and food security.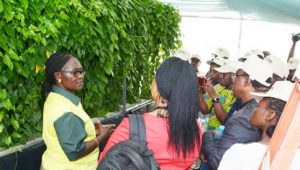 On 18 October, the Yam for Income and Food Security in West Africa phase two (YIIFSWA-II) project hosted eight seed enterprises and their seed growers and other project partners from Ghana and Nigeria, to demonstrate the feasibility of using IITA-generated research on TIBS and AS for the production of early generation planting materials by establishing a 5-hectare field with AS-derived single node seedlings. A 3-hectare field has so far been established.
To kickstart the program, the Deputy Director, Research for Development (R4D) IITA West Africa, Michael Abberton, welcomed the participants to the Institute on behalf of Robert Asiedu, Director (R4D) West Africa. He said that "The successes of IITA had been based on the commitment to innovative research that leads to the development of revolutionary technologies like HRPTs for quality seed yam production." He implored the participants to learn as much as they could and use what they have gained into their enterprises to maximize impact in Ghana and Nigeria.
"This is the first time that seed yam production is being done on a large scale using the TIBS and AS technologies. Seed entrepreneurs invited to witness the event can use these technologies efficiently to produce clean and disease-free seed yam for sale. The AS at IITA can generate seedlings for a 10-hectare field because the multiplication ratio of yam has increased from 1:5 to at least 100 every three to four months," said Norbert Maroya, YIIFSWA-II Project Leader.
The seed entrepreneurs and their seed growers were given a grand tour of YIIFSWA seed production activities in IITA. They were shown how clean seed/nucleus stock are produced using TIBs, virus indexing and diagnostics, recently harvested yam tubers from AS-derived seedlings, the aeroponic system, nurseries filled with AS-derived seedlings, and 3 hectares of AS-derived plants. Participants also tasted yam composite products and were amazed at the diverse range of value addition.
At the closing, participants remarked on the work done, congratulating IITA on its achievements. "Previously many scientists didn't want to work on yam because it was considered a difficult crop to handle, until IITA broke the jinx on hybridization. As a result, several improved varieties were developed and released but no seed was given to farmers. Now IITA has done it again! It has broken the jinx on quality seed supply by adapting revolutionary HRPTs for seed yam production of improved varieties.
Kudos to IITA for championing yam research and for being at the forefront of yam development. Stay on the course and continue to develop the value chain," Dr John Ikeorgu of YIIFSWA said.
A seed grower from Nasarawa State said, "I was surprised that yam can grow in the air and without soil. If I didn't see it, I wouldn't have believed it. They are even using the vine to produce tubers. This is very surprising and new to me. They showed us plenty of tubers; the tubers are very clean. I wish I could take one home to go and produce seed and plant for myself. Kai, they have done well. I will go and tell my people at home that this is what they are doing here, so that we can key into it."