Abebe

,

Abush
Postdoctoral Fellow – Soybean Breeding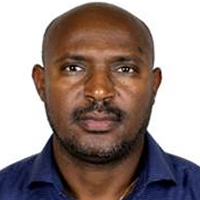 Abush Tesfaye Abebe,
an Ethiopian, is a post-doctoral fellow in soybean breeding based at IITA, Ibadan, Nigeria. He holds his B.Sc. and M.Sc. degrees in plant sciences and plant breeding, respectively from Haromaya University, Ethiopia. He obtained his PhD in Plant Breeding, focusing on soybean breeding, from the African Center for Crop Improvement (ACCI), University of KwaZulu-Natal, South Africa.
Before joining IITA, he worked for the Ethiopian Institute of Agricultural Research, based at Jimma Agricultural Research Center in the soybean research team. He served the center in various leadership positions, such as Head of Crops Research Process, and Head of the soybean breeding team. He also coordinated the National Lowland Oil (Soybean, Groundnut and Sesame) Crops Research Program. He served as the local PI of Feed the Future, Soybean Innovation Lab project for four years (2014-2018). He taught post-graduate courses in plant breeding, genetics and quantitative genetics, and supervised the thesis research of MSc and PhD students of Jimma University College of Agriculture and Veterinary Medicine, and Haromaya University, Ethiopia. Abush has more than 20 years of experience in the identification, and prioritization of research problems in the areas of breeding and genetics, and Research for Development.