Agre

,

Paterne
Molecular Breeder
Email: p.agre@cgiar.org
Tel: +234 0700800IITA, +1 201 6336094
Nationality: Beninese
Station: Nigeria (Ibadan)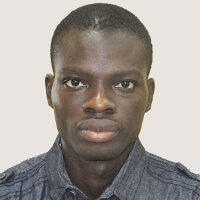 Paterne Agre
, a Beninese, is a Molecular Breeder in the yam breeding unit at IITA, Ibadan, Nigeria. He obtained his BSc in Natural Science and MSc in Genetic Resources and Plant Breeding from the Faculty of Science and Technology at the University of Abomey-Calavi (Benin Republic) in 2009 and 2012, respectively. He obtained his PhD in Plant Breeding, focusing on cassava breeding, from the University of Abomey-Calavi.
Agre has more than 7 years' experience in genetic resource management and plant breeding and 3 years in bioinformatics, data curation, programming language, and prioritization of research problems in the areas of breeding and genetics, and research for development.
Before taking up this position in December 2018, he was an international consultant at IITA from June 2016. He worked in the Yam breeding Unit/AfricaYam project in molecular data analysis focusing on genotyping by sequencing data analysis and developing pipelines for SNP calling as well as serving as a phenotypic data curator. He provided statistical training for the national yam breeding unit involved in the AfricaYam project across West Africa. He also contributed to DNA extraction protocol optimization and application of molecular markers at early generation for plant screening. Before joining IITA, he worked as a research associate for the Laboratory of Biotechnology, Genetic Resources, and Plant and Animal Breeding (BIORAVE), FAST-Dassa, UNSTIM where he led cassava breeding activities. He worked mainly with farmers on understanding cassava production constraints, identification of best cassava varieties across the country, and understanding farmers' preference criteria and developed new cassava varieties to meet farmer, consumer, and processor demands after understanding the genetic diversity of the cassava germplasm in Benin. He also taught molecular biology, bioinformatics, and data analysis to the graduate students of FAST-Dassa.
His e-mail address is P.Agre@cgiar.org