Akande

,

Adebowale
Head, Agribusiness and Mechanisation
Email: a.akande@cgiar.org
Tel: +234 7032213797
Nationality: British
Station: Nigeria (Abuja)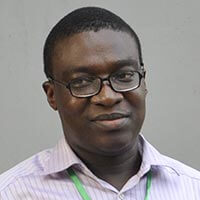 Debo Akande is a Senior Specialist with the International Institute of Tropical Agriculture with close to 20 years of International Development Management experience. He leads IITA Agribusiness management with a specific focus on private sector engagement and development of agricultural enterprises in scaling agricultural innovations. He has piloted several global agricultural development projects with verifiable success, including theAgResults Global Initiative. He is a member of the CGIAR Program on Agriculture for Nutrition and Health (A4NH) and one of the two African Country Coordinators of the CGIAR Flagship Program on Food Systems for Heathier Diets.
He has led several Agribusiness management and consultancies for and with diverse international institutions including Deloitte LLP USA, the World Bank, USAID, UK DFID, Canada Finance, the Bill & Melinda Gates Foundation, and Australia Aid. Through his work, he has supported Agribusiness strategy development for diverse countries in Africa, including Liberia, Ghana in West Africa and currently in the diverse countries in the Central Africa Region .
He is a Doctoral Researcher with the University of Hertfordshire, UK with a speciality in Agribusiness Strategy Development and Management. He also holds Bachelors and Masters degrees in International Development Studies from the United Kingdom, a Diploma in International Environmental Law from the United Nations Institute for Training and Research Switzerland, and a Diploma in Agribusiness Management from the Pan African University, Nigeria. He was trained in Climate Change Management at Oxford University, UK; Food Security Policy at the Food and Agriculture Organization of the United Nations and World Bank; and Negotiation, Conflict Analysis, and Management from the United States Institute of Peace, United States, among others.
He is a Chartered Manager and was recently conferred a Fellow of the Chartered Management Institute, United Kingdom.