Bhattacharjee

,

Ranjana
Molecular Geneticist
Email: r.bhattacharjee@cgiar.org
Tel: +234 0700800IITA, +1 201 6336094 , Ext. 2743
Nationality: Indian
Station: Nigeria (Ibadan)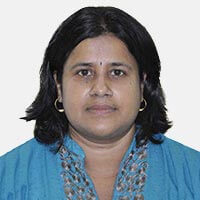 Ranjana Bhattacharjee is Molecular Geneticist with specialization in Molecular Breeding and based at the Bioscience Center, IITA-Ibadan.
Bhattacharjee is responsible for supervising research projects in yams and cacao involving molecular characterization using DNA markers, linkage mapping, QTL analysis, association mapping and genome-wide association studies. She represents the African Cocoa Breeder's Working Group (ACBWG) to participate in projects involving cacao sustainability in West and Central Africa. She is presently involved in the World Cocoa Foundation (WCF) funded project 'African Cocoa Initiative' (ACI) to fingerprint the cocoa germplasm from West and Central Africa. In addition, she is involved in USAID-linkage project for linkage mapping and QTL analysis for anthracnose disease in Dioscorea alata (water yam), IITA-JIRCAS collaborative project on 'Whole Genome Sequencing of D. rotundata' and IITA-MAFF project on nutrient use efficiency for D. alata and D. rotundata.
Dr. Bhattacharjee obtained her PhD in Plant Breeding from CCS Haryana Agricultural University while she was a Research student in the International Center for Research on Semi-Arid Tropics (ICRISAT), Patancheru, Hyderabad, India. She was a postdoctoral scientist at IITA, Central Biotechnology Laboratory, Ibadan, Nigeria and Scientist, Pearl Millet Breeding, ICRISAT, Patancheru, India. She has been involved in various collaborative projects between IITA, USDA-ARS, USAID, MARS and national programs in West and Central Africa for cocoa molecular breeding. Her professional background in molecular breeding and statistical biometrics has resulted in several publications.