New crop-livestock technologies to mitigate conflict between crop and livestock farmers in DRC
27 July 2021
More than 20 farmers from Katogota and Kamanyola in the Ruzizi plain of South Kivu Province, Democratic Republic of Congo (DRC), took part in a participatory evaluation of intercropping trials of maize and Brachiaria grass.
IITA
organized this activity on 14 July as part of the Integrated Project for Agricultural Growth in the Great Lakes (PICAGL) in collaboration with the Consortium for Improving Agriculture-based Livelihoods in Central Africa (CIALCA) project.
The evaluation session comes about 10 months after introducing the maize–Brachiaria systems in the Ruzizi plain. IITA Research Associate in Livestock, Samy Bacigale, explained the motivation for this research as the scarcity of livestock feed in the Ruzizi plain, especially during the dry season where cattle farmers opt for transhumance—migratory herding—looking for abundant pasture. Cows destroy crops on their path leading to conflict between crop and livestock farmers.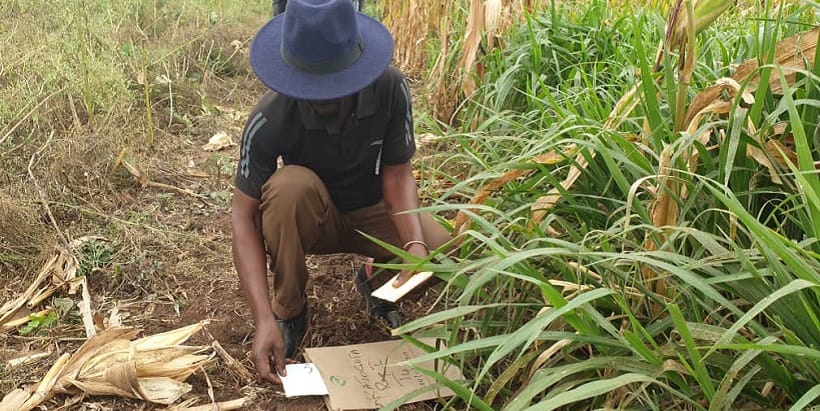 "These systems involve intercropping improved Brachiaria mulato with maize and soybean crops to have food for humans and feed for livestock while preserving the soil quality. These systems aim to mitigate the conflicts between pastoralists and crop farmers, which negatively impact the adoption of agriculture technologies," said Bacigale. "These interventions target 600 primary beneficiaries who will extend the technology to more than 3500 secondary beneficiaries when the members of local farmers' organizations involved in the project duplicate this technology on their own farms," he continued.
Brachiaria mulato, which is being promoted, was improved from already degenerating local strains of Brachiaria ruziziensis, native to the Ruzizi plain.
According to IITA Agricultural Production Systems Scientist Kokou Kintche, this technology will enhance maize production to feed people and provide fodder for livestock without altering the soil's physical and chemical properties.
One of the beneficiaries of the PICAGL project from Kamanyola, Chakupewa Jacqueline Mugobozi, welcomed this new maize-fodder system with open arms as she feels it will improve their production which was already low due to migratory herding.
"This new technology comes at the right time to reduce conflicts between herders and crop farmers, caused by the straying animals," said the secretary of Katogota locality, Bagalwa Muhara.
The same activity was conducted at three other sites in the Ruzizi plain, namely, Luvungi, Bwegera, and Runingu.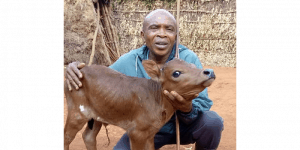 To scale out the crop-livestock technologies, IITA is partnering with Vétérinaire Sans Frontière-Belgium (VSF-B) to introduce improved livestock feed technologies and improve livestock breeds in eastern DR Congo. In South Kivu, more than 600 cows were artificially inseminated last year and are now calving hybrids of Jersey-Ankolé. They expect to double milk production from the adoption of improved forages and improved breeds.