Ferguson

,

Morag
Molecular Geneticist / Project Coordinator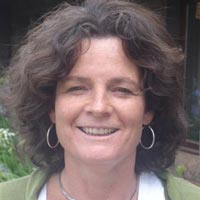 Morag Ferguson is a Scientist working in Crop Genetics and Molecular Breeding at IITA, based in Nairobi, Kenya. She works mainly with cassava and more specifically on host plant resistance or tolerance to biotic stresses, particularly cassava brown streak disease (CBSD) and cassava mosaic disease (CMD). She has also worked on a number of other IITA crops including bananas, cowpea and yam.
Morag obtained her PhD in Conservation Genetics from the University of Birmingham, UK, while based at the International Centre for Agriculture Research in the Dry Areas (ICARDA), Aleppo, Syria. She has had postdoctoral stays at the University of Southampton (UK), ICARDA (Arabian Peninsula) and ICRISAT, Hyderabad, India, with some time spent at the University of Georgia (USA), before joining IITA in Nairobi in 2002.
Over the past few years Morag has been working to find molecular markers associated with resistance/tolerance to CBSD, but also keeps up her interest in genetic diversity, studying diversity in cassava in South, East and Central Africa and in East African Highland Banana. She has supervised several MSc, PhD and Post-doctoral students. She works closely with the National Agriculture Research programs in both Tanzania and Uganda, with DSMZ in Germany and UC Berkeley, Dow AgroSciences and Cornell University in USA.