BASICS-II and AGRA to collaborate in scaling cassava seed systems in Nigeria
13 January 2022
The Building an Economically Sustainable Integrated Cassava Seed System, phase 2 (BASICS-II) project and the Nigeria country office of the Alliance for a Green Revolution in Africa (AGRA) have agreed to work closely to reinforce and promote sustainable cassava seed system models in Nigeria. They reached this resolution during a recent courtesy visit the BASICS-II team paid to the Nigeria country office of AGRA in Abuja.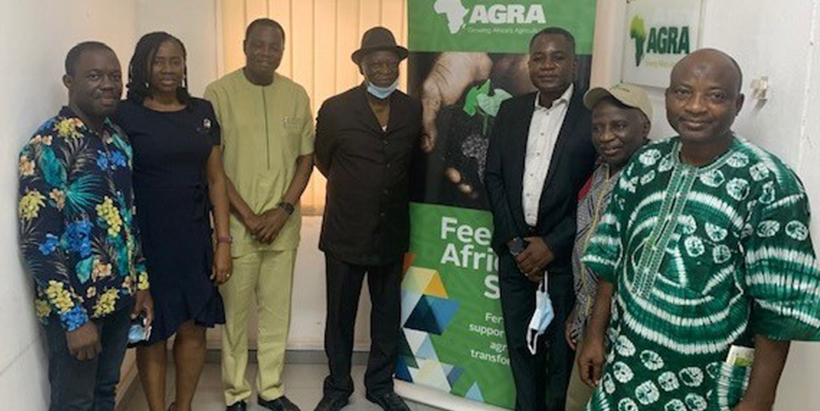 BASICS-II and AGRA see the relationship as mutually beneficial as both parties work on a common crop—cassava.
During the visit, the two teams discussed areas of cooperation in the cassava seed sector in Nigeria. Specifically, the two teams explored how they could improve the sustainability of the cassava seed system to improve the livelihoods of cassava seed growers.
The BASICS-II Project Manager Prof. Lateef Sanni said the conversation with AGRA was fruitful, adding that the synergy with AGRA would impact the cassava seed sector in Nigeria and beyond.
Grown by 4.5 million farmers in Nigeria, the cassava seed sector has largely remained informal—a situation that favors the spread of landraces but hinders the diffusion of improved varieties and keeps yield per hectare low. BASICS-II project is currently changing the narrative by creating a formal seed system beginning with Nigeria and Tanzania.
AGRA Country Manager Dr Kehinde Makinde commended BASICS-II, adding that the cooperation between the two teams would create a more significant impact on the cassava value chain.
He added that AGRA would support advocacy efforts to discourage the Federal Government from disrupting the cassava seed market. Furthermore, AGRA and BASICS-II will work with the National Agricultural Seed Council (NASC) to make seed certification more accessible and affordable. This has been an activity that BASICS-II had made progress, but more local certifiers were still needed.
The Advocacy, Promotion, and Outreach Lead, Godwin Atser, said the conversation also bordered on leveraging funding from the government and International Finance Institutions (IFIs) for investment in the seed sector. "Another area of possible collaboration was joint advocacy to create a robust market for cassava seed system and to end the disruption of seed systems through the distribution of stems that are often diseased."
The Director of IITA Development and Delivery Office, Alfred Dixon, noted that the visit to AGRA was timely and a step in the right direction. He stressed the importance of seed quality, accessibility of improved varieties, and capacity building for farmers in areas such as using the Six steps to Cassava Weed Management Toolkit and digital tools such as the IITA Herbicide calculator and Seed Tracker to enhance yield.
Other members of the BASICS-II team were TAAT Program Manager Chrys Akem and BASICS-II Project Administrator Ezinne Ibe.