DG Sanginga graces handover of aflatoxin laboratory and launch of Aflasafe in Malawi
30 April 2019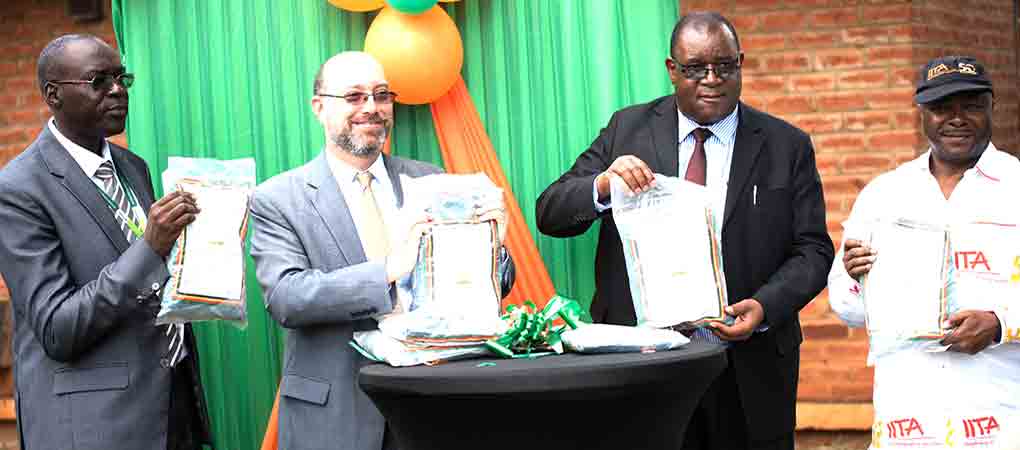 During the recent h andover of the Aflatoxin Research and Training laboratory in Malawi on 10 April, IITA Director General Nteranya Sanginga challenged players in the agricultural industry to vigorously fight aflatoxin, which contaminates up to 30% of groundnut and maize in Malawi.
Dr Sanginga was joined by the Deputy Chief of Mission for the US government to Malawi, Mr Andrew Hirrup, and the Controller of Agriculture Services in the Ministry of Agriculture, Irrigation and Water Development, Dr Alex ander Bulirani who represented the Honorable Minister of Agriculture, Irrigation and Water Development. He noted that aflatoxin is strictly monitored in crops sought by domestic and international premium markets. For these markets, crops with aflatoxin above safety limits are a health hazard, thus, have zero or greatly reduced commercial value and should be destroyed.
"The goal of IITA's Aflasafe initiative is to develop, promote, and commercialize a natural, biological control product in the groundnut and maize value chains to improve food safety and public health, increase trade, augment smallholder income, and enhance food security and food safety in the country," said Dr Sanginga.
The colorful event had in attendance Malawi government officials, CGIAR partners, private sector actors, and farmers. It was marked by an Aflasafe exhibition and launch, traditional dances, and a tour of the aflatoxin laboratory led by IITA pathologist and Aflasafe Program Manager in Malawi, Joseph Atehnkeng. The dignitaries unveiled a plaque to mark the official h andover and launch.
Aflasafe for Malawi was developed by IITA through the Malawi Improved Seed Systems and Technologies (MISST) project with funding from the United States Agency for International Development (USAID) and in partnership with US Department of Agriculture, Agricultural Research Services, the Malawi Department of Agricultural Research Services (DARS), and several other institutions. After three years of testing, Aflasafe MWMZ01 and Aflasafe MW02 have now been cleared for release by the Agricultural Technical Clearing Committee (ATCC) and need to be registered and commercialized so that farmers can use them in their fields.
To combat the negative health and economic impact of aflatoxins, USAID through the MISST project has invested over MK1.5 billion (US$2 million) to reduce aflatoxin contamination in food. Hirrup noted, "Malawi now has one of the best laboratories in the region with capacity to comprehensively test for aflatoxins in maize and groundnut. The next step is to register the new Aflasafe products, enter into partnership with the private sector, and create awareness about aflatoxins among farmers."
Aflatoxin is responsible for 30% of all liver cancer cases globally. In 2017, the African Union estimated that the risk of aflatoxin-induced liver cancer cases was 11.89 per 100,000 humans, which translates to a total of 2,171 aflatoxin-induced liver cancer cases per year. Malawi is also losing over MK64 billion (US$88 million) in exports due to aflatoxin-contaminated groundnut.
"We need to make the message on the health aspect for people to underst and that they are consuming highly contaminated maize and groundnut, which endangers their lives. We will also need to partner with the private sector so that they can make the product readily available to farmers," said Bulirani.