Empowering Congolese women: IITA participates in UN Women's conference
24 July 2019
As part of its interventions in the Democratic Republic of Congo (DRC),
IITA
participated in the 13
th
edition of "Café Genre" on women empowerment through the processing of local agricultural products. The
United Nations Women
organized the conference on 5 July in Kinshasa, with the National Minister of Gender, Family and Child, her Excellency Mrs Chantal Safu serving as Chair of the occasion.

IITA's contribution centered on its technologies in the improvement of cassava processing. Cassava Processing Specialist Ir Simon Lukombo represented the Institute as he reminded the participants of IITA's vision and objectives in addition to giving general information on cassava, such as its introduction to Africa by the Portuguese. Today, its adoption has spread to make it one of the most important food crops in Africa.
In addition, Lukombo noted that the DRC is the second largest cassava producer in Africa, after Nigeria, thanks to IITA's efforts in the fight against cassava diseases. He informed the audience that IITA processing technologies are gender sensitive, improve product quality and hygienic conditions, and reduce drudgery.
Lukombo highlighted the business opportunities that cassava offers to Congolese women. This resulted in discussions with Ms Awa Ndiaye-Seck, UN Women DRC Country Representative, who wished to deliberate with IITA on how the Institute could help her organization in empowering women. Mr Dries van Bertten from the Agriculture Department of the Belgian Embassy also sought to establish contact with IITA for possible future collaboration.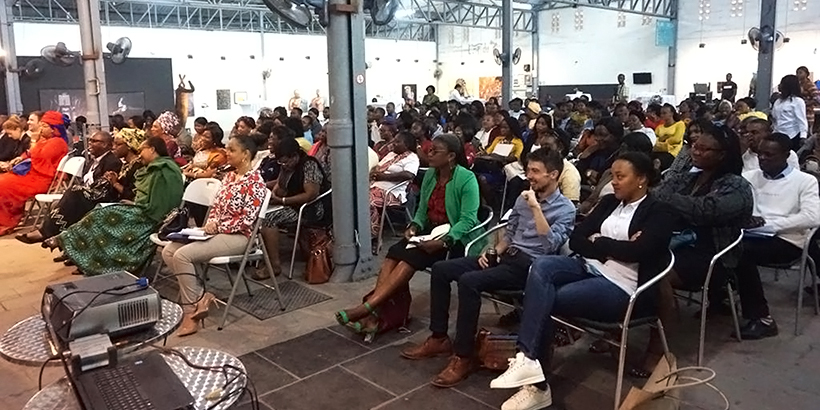 Other participants at the conference included women members of the National Assembly and the Minister Delegate of the Belgian Embassy in the DRC.