ENABLE-TAAT partners with banks to provide business credit to trained African youth
9 July 2021
ENABLE-TAAT is supporting its beneficiaries by linking them to financial institutions that can help start-ups and existing businesses.
Youth often have a challenge accessing funding and raising capital for their businesses, whether as loans or grants. Many youth begin their enterprises with their savings and support from their families or acquaintances, but such funds may not sufficiently cater to their business plans. In other cases, the youth may form a cluster and combine their financial strengths to build the enterprise.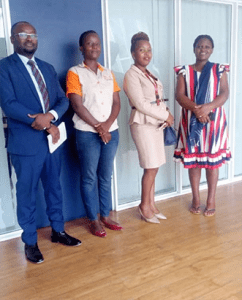 ENABLE-TAAT has established a relationship with Equity Bank to support growing enterprises of trained youth. The bank is committed to this effort and has highlighted its requirements, which are not difficult for new enterprises to meet. In Tanzania, the bank agreed to receive and review the business plan for the youth group that received training on poultry farming in November 2020 to begin the loan application process. The group has its guarantors, while ENABLE-TAAT provides backstopping so that the youth can use the funds effectively.
The relationship with Equity Bank extends to Uganda, where the bank has already assessed and certified 219 youth-led enterprises for loan applications. So far, 76 of them have received loan packages. The team in Uganda is working to secure partnerships with other banks that have special offers for agribusiness development.
In Nigeria, Sterling Bank has stated its commitment to fund enterprises of 34 Enable-TAAT beneficiaries. So far, about 18 start-ups have already received account-opening packages with a 9% interest rate, with the possibility to access more funding as their businesses expand. Currently, more beneficiaries are opening their agribusiness accounts with Sterling Bank. These partnerships establish a structure by which youth can have guaranteed access to capital immediately after training.