Hope for Tanzanian banana farmers with the official release of new "matooke" hybrids
29 July 2021
Tanzania has officially released four new, improved hybrids of the important staple cooking banana, "matooke". These are the first-ever matooke banana hybrids released in Tanzania. These hybrids are resistant to important pests and diseases ravaging the current varieties that millions of farmers across the country are growing and, as such, herald an exciting era for banana cultivation in the country.
The new matooke hybrids were first developed by the International Institute of Tropical Agriculture (IITA) and the National Agriculture Research Organization (NARO) of Uganda and named NARITAs. They were later tested in Tanzania by the Tanzania Agriculture Research Institute (TARI) and its partners IITA, NARO, and Alliance of Bioversity International and CIAT, to identify those most suited to Tanzanian fields and Tanzanian farmers.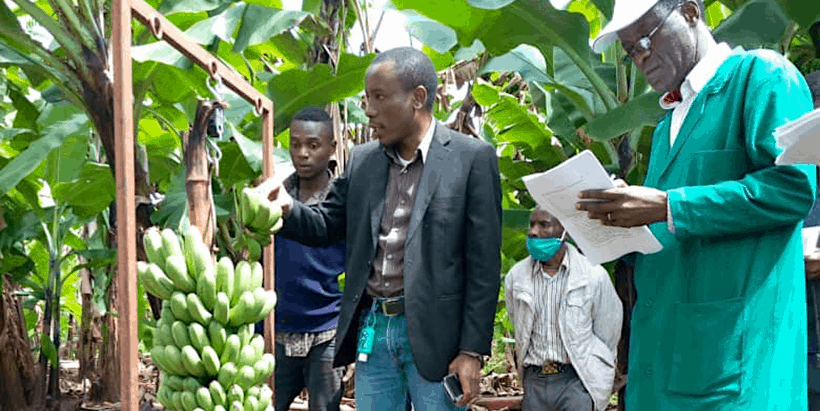 The four NARITA hybrids, now called TARIBAN 1–4, were officially released in March and announced by the Minister of Agriculture, Hon. Prof. Adolf Faustine Mkenda, during his budget speech in parliament in May 2021. The new varieties are resistant to black Sigatoka leaf disease and banana weevils, with potential yields ranging from 18 to 35 t/ha/year. Currently, farmers' average productivity is around 7 t/ha/year.
The East Africa Highland cooking banana, locally referred to as "matooke", are steamed or boiled, and then sometimes mashed before consumption. They are the main staple for millions of people across the region, where banana fields often blanket whole hillsides, stabilize the landscape, and provide a key source of income to communities in the Great Lakes Region of Africa.
Farmers in Tanzania have been growing the same ancient banana varieties for hundreds of years. Pests and diseases perpetually afflict these varieties affecting yield and quality.
The National Coordinator for banana research at TARI responsible for leading this research, Dr Mpoki Shimwela, noted this was a major achievement for the country's efforts to improve its food security and the incomes of rural farmers. He was instrumental in demonstrating the value of these hybrids to the Tanzanian farmers during the Nane Nane national farmers' day.
"This is very good news for the farmers as they have been eagerly waiting for these varieties as theirs (varieties) are highly susceptible and production has been devastated by pests and diseases for many years. Many of the farmers had given up on growing banana altogether despite it being a major staple crop for many parts of the country," he said.
Rony Swennen, who leads IITA's banana breeding, welcomed the news of this official release noting it as a huge milestone for the country and region. He also attributed the success to the excellent collaboration between the national partners, NARO and TARI, and the international partners, IITA and Bioversity International, that facilitated the fast-tracking of this release—an otherwise long, drawn-out process. However, the journey began many years ago in Uganda, following more than 20 years of breeding collaboration between IITA and NARO, which saw 27 matooke hybrids (NARITAs) developed.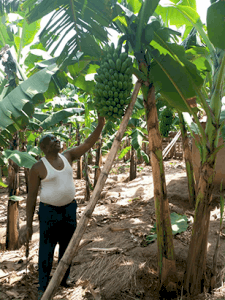 The release of NARITAs into Tanzania from Uganda strengthens the partnership between the national programs of both countries in the spirit of East African cooperation through research, thereby giving NARO and TARI a stake in the agenda for regional development. The NARITAs were first brought to TARI  to test yield performance and local acceptability in all the banana production areas under the IITA-led Breeding Better Bananas project.
Based on various characteristics such as taste, cooking texture, and yield, the best four were identified as those that farmers preferred. This was achieved in a record five years. The next steps will be to develop a robust seedling production and distribution system of the new hybrids to enable farmers to access them across the country.
For more information, contact Dr Mpoki Shimwale (TARI), mpokis@yahoo.com; Dr. Priver Namanya (NARO), bwesigyep@gmail.com; and Prof Rony Swennen (IITA), r.swennen@cgiar.org.
This work is part of the CGIAR Research Program on Roots, Tubers and Bananas (RTB)