IITA joins with Tanzania's Ministry of Agriculture to organize starch stakeholders' meeting to expand cassava commercialization
14 January 2022
As part of efforts to realize the national cassava commercialization strategy, IITA, through the BEST Cassava project, co-organized a starch meeting with the Ministry of Agriculture under the Honorable Minister, Professor Adolf Mkenda. The meeting brought together cassava producers, starch processors, importers, and various institutions in trade and regulatory bodies.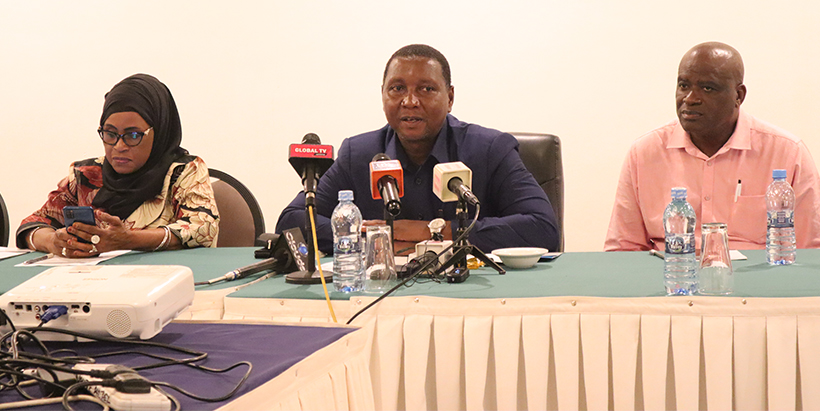 The objective of the meeting was to facilitate discussion to understand the starch needs of importers and identify market opportunities available for cassava producers, creating demand for commercialized, high-quality planting material of superior cassava varieties. The event took place on 30 November in Dar es Salaam and was graced by the Hon Minister.
The Minister said he had convened the meeting to learn from the starch importers their needs in terms of quality and quantity. This information will help the cassava producers to meet the market demands and reduce importation.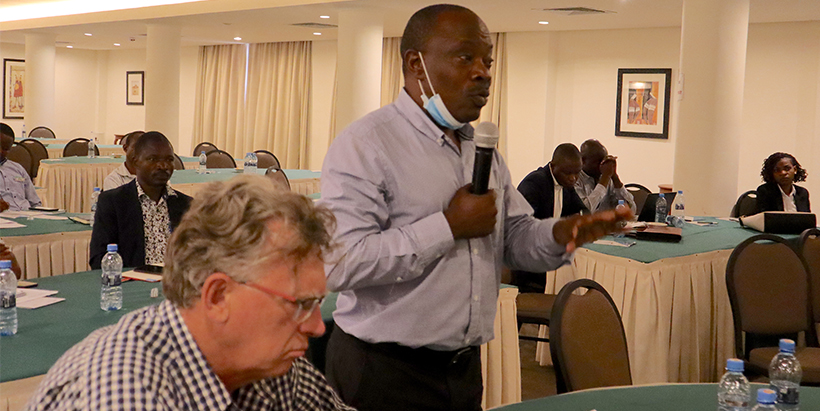 Upendo Mndeme, the Ministry's cassava desk officer, indicated that the event is part of efforts to commercialize cassava in the country, as spelled out in the recently launched National Cassava Development Strategy. IITA, through her BEST Cassava project, played a key role in its development, publication, and launching.
"Currently, most cassava grown in Tanzania is for home consumption, yet it has great potential as a cash crop and can improve lives of rural communities,'' said Regina Kapinga, BEST Cassava Project Leader and Head of Advocacy and Resource Mobilization Unit. Furthermore, she said researchers had developed high-yielding improved varieties with moderate to high-starch content.
"The presentation made jointly by IITA and the Tanzania Agricultural Research Institute (TARI) showed clearly that many released cassava varieties have high dry matter content and so can be a good source of starch. And if we are searching for cassava market, then the first place is the domestic market, and one such product is cassava starch," said the Minister.
Dr Esther Masumba, a cassava breeder and national root/tuber crops coordinator from TARI, indicated that the new varieties could be processed into quality starch used for food, textile, and pharmaceutical purposes due to low amylose content.
Victor Kabegu, a youth businessman and Chief Executive Officer of JV Biotech, a starch processing factory, said the three criteria for starch importers were the consistency of supply, quality, and the types of starch.
Victor noted that most starch processors produce native starch instead of modified starch primarily used in industries. He suggested that the producers invest more in modified starch.
"The starch importers need to tell us the quality they need so that we can improve starch production. IITA and TARI have done a good job of training and supporting us on good agronomic practices of cassava production, and I am sure they will not abandon us now. We are ready to learn and invest just as we were taught on cassava production," said Sharifa Abebe, a cassava producer, and processor from Handeni District.
During the meeting, stakeholders suggested that cassava farmers be equipped with an agripreneur mindset and support with mechanization. "We need mechanization and processing of cassava to reduce food loss on the farm. Also, invest in cassava warehouse just like those we have for other crops," recommended Frederick Baijukya, Agronomy scientist at IITA.
The stakeholders appreciated the opportunity to brainstorm with the government on challenges currently facing cassava farmers and starch importers. "This meeting was useful because it gave us the chance to brainstorm with policymakers on how cassava can reduce starch importation costs. Therefore, I call upon the youth to grab the opportunity in cassava production," explained Victor Kabegu.
The BEST Cassava project seeks to develop Tanzania's commercial cassava seed system. Through the commercial seed system, farmers will have timely access to quality-declared, disease-resistant, and disease-tolerant varieties in the right quantities and at a price they can afford. The adoption of these superior varieties will support farmers in producing high-yielding cassava in the face of increasing disease pressure.