Oyo Governor commissions IITA Projects
28 May 2019
Former President of Nigeria and IITA Goodwill Ambassador, Chief Olusegun Obasanjo GCFR, together with the Governor of Oyo State, HE Senator Abiola Ajimobi, commissioned two key projects at IITA, Ibadan, on 25 May. These include the Agricultural Transformation Building dedicated to research and delivery of innovations to farmers across Nigeria and Africa in general, and a 10.5-km ring road named after Senator Ajimobi, within IITA. In addition to the commissioning, IITA presented an Agricultural Policy Framework for Oyo State to the Governor for Oyo State.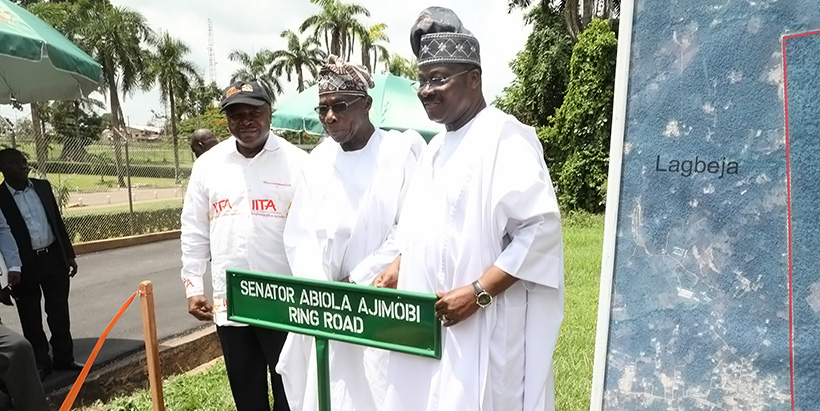 The building, which was funded by the African Development Bank through a Nigerian project— Agricultural Transformation Agenda Support Program (ATASP)—comprises 22 offices, eight large laboratory spaces, a conference room, and a utility facility. The 10.5-km road covers part of the perimeter fence of the 1000-hectare campus of IITA. The road was constructed by Oyo State government as part of efforts to support agricultural research. Senator Ajimobi said that the support given to IITA was a confirmation of the importance of agriculture to Oyo State, and the contribution of IITA to agricultural development in the state. "Today Oyo state is the best place to invest and promote agriculture because we have IITA located in the state," he said.
Dr Nteranya Sanginga, IITA Director General, said "the rejuvenation of the IITA facility in Nigeria was crucial for the Institute's sustained efforts to transform agriculture on the continent. We are excited to see a state in Nigeria showing the example by supporting infrastructure in an international agricultural research center."
Concerned by the poor performance of agriculture, Governor Ajimobi last year requested IITA to produce a policy document that would provide direction to the transformation of agriculture in the state for the next 25 years. Based on this request, IITA worked with the Nigerian Institute of Social and Economic Research (NISER), the state ministry of agriculture, and Oyo State Agricultural Development Program to produce the framework. Dr Alfred Dixon, IITA Director for Development and Delivery, said the framework situated Oyo State agriculture in context and examined the strengths, weaknesses, opportunities, and threats to key agriculture value chains in Oyo State.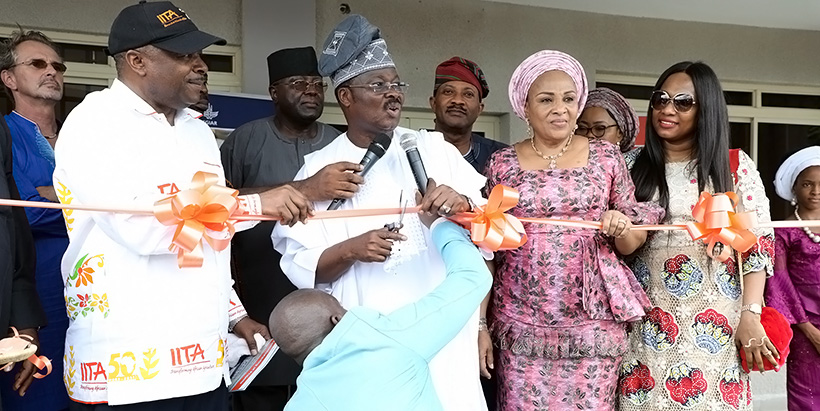 "Our problem is not policy formulation but implementation," said Obasanjo. The IITA Goodwill Ambassador commended Governor Ajimobi for supporting IITA and called for the extension of innovations generated from research stations to farmers. He noted that there is a gap between research institutions and the ordinary smallholder farmers, " and we need to close that gap to bring about agricultural transformation," Chief Obasanjo added.
In his speech, Senator Ajimobi pointed to the fact that Oyo State not only has the highest number of research institutes but is also the largest producer of cassava in Nigeria. "In the next 5 to 10 years, we believe Oyo State will become the food basket of the nation," he said. In agreement with this, Chief Obasanjo said, "the technology, research, products of research and innovation that will make Oyo State the food basket of the nation or Nigeria the food basket of the world are already available. However, to make this a reality, we must match these resources with human resources and funding."
Robert Asiedu, Director of Research for Development (R4D) West Africa said, "I am optimistic that the positive impact from where we are starting today will be tremendous."