Former Benin President and Sasakawa executive members visit IITA-Benin
25 March 2017
On 21 March, IITA-Bénin hosted Honorable Ruth Oniang'o, Chairperson of the Board of Directors of Sasakawa Africa Association (SAA), accompanied by Deola Naibakelao, Managing Director, Sasakawa Africa Fund for Extension (SAFE), Mercy Akeredolu, SAFE West Africa Coordinator, and former IITA staff member Leonides Halos-Kim, now Director of Post-Harvest and Agro-processing with SAA. But that was just the beginning of an even more exciting event.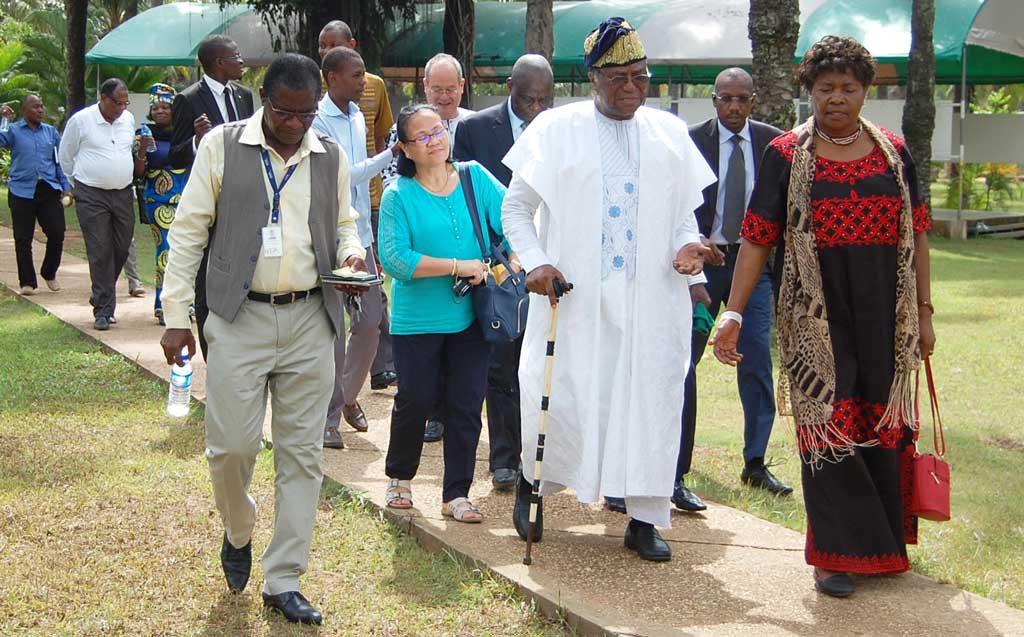 Former President, H.E. Nicephore Dieudonné Soglo, the only Bénin President to have visited IITA station way back in 1992, hearing that Honorable Oniang'o was visiting the station, expressed the wish to be part of the delegation. As a result, the station witnessed the visit of a very high powered delegation, which also included the Secretary General of the Ministry of Agriculture, Françoise Assogba-Komlan and her staff, as well as colleagues from the University of Abomey Calavi.
Presentations by IITA-Bénin staff were followed by very lively discussions. President Soglo, Deputy Chair of the Board of Directors of SAA, was very pleased to see that the station was still vibrant and kicking after his last visit 25 years ago. He congratulated IITA for a job well done, particularly with regards to the new course taken by the station in addressing biorisks under the threat of climate change.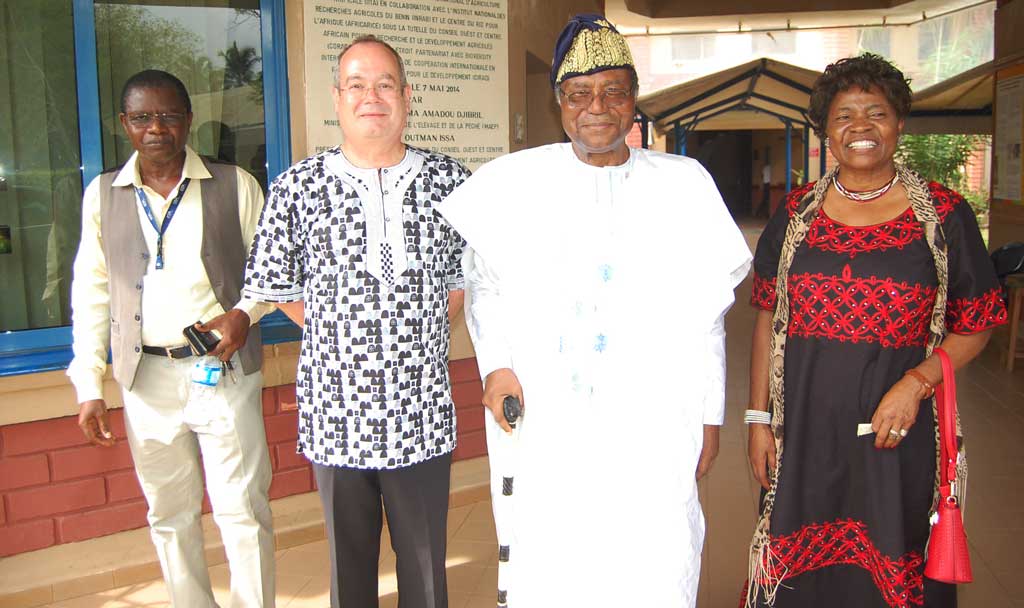 Hon. Oniang'o repeatedly emphasized the importance of providing sustainable and affordable agricultural technologies to youth and women, the most vulnerable groups within farming communities. The distinguished guests were impressed by the efforts deployed by the IITA-Bénin team in developing and disseminating solutions to control biorisks with minimal disturbances of plant, animal, environmental, and human health.
About IITA www.iita.org
The International Institute of Tropical Agriculture (IITA) is a not-for-profit institution that generates agricultural innovations to meet Africa's most pressing challenges of hunger, malnutrition, poverty, and natural resource degradation. Working with various partners across sub-Saharan Africa, we improve livelihoods, enhance food and nutrition security, increase employment, and preserve natural resource integrity. IITA is a member of CGIAR, a global agriculture research partnership for a food secure future.
Media contact: Katherine Lopez, Head of Communication, k.lopez@cgiar.org