(Zea mays)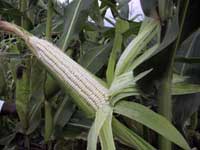 Maize, Zea mays L. (corn), is the most abundantly produced cereal in the world. It is grown in every continent except Antarctica. About 50 species exist and consist of different colors, textures, and grain shapes and sizes. White, yellow, and red are the most common cultivated maize types. The white and yellow varieties are preferred by most people depending on the region. Maize, which was domesticated in central Mexico around 1500 BC, was introduced into Africa around 1500 AD, and spread to every corner of the continent within a relatively short period and is now Africa's most important cereal crop.
Importance
Maize is the most important cereal crop in sub-Saharan Africa (SSA) and an important staple food for more than 1.2 billion people in SSA and Latin America. More than 300 million Africans depend on maize as the main staple food crop. All parts of the crop can be used for food and non-food products. Maize accounts for 30−50% of low-income household expenditures in Africa. Over 30% of the caloric intake of people in sub‐Saharan Africa comes from maize. For these reasons, several African countries that depend on maize as a staple food crop, have adopted agricultural policies to maintain a steady supply of the commodity through increased production and productivity of the crop. Maize is also consumed as a vegetable and it is rich in dietary fiber and other nutrients.
Production
Maize production in Africa was around 75 million tons in 2018, representing 7.5% of world maize production. Maize occupies approximately 24% of farmland in Africa and the average yield stagnates at around 2 tons/hectare/year. The largest African producer is Nigeria with over 33 million tons, followed by South Africa, Egypt, and Ethiopia. Africa imports 28% of its required maize grain from countries outside the continent as most of the maize production in Africa is done under rain-fed conditions. Irregular rainfall can trigger shortages and famines during occasional droughts.
Area and consumption
According to FAO (2017) the total maize harvest in Africa was estimated at 40 million hectares, with Nigeria being the top producer (16%) followed by Tanzania. Worldwide maize consumption is estimated to be more than 116 million tons with 30% and 21% of the consumption occurring globally and in SSA, respectively. Around 14 countries in SSA consume 85–95% of white maize as their staple food. White maize fetches premium prices in Southern Africa where it represents the main staple food, whereas yellow maize is preferred as animal feed in most parts of South America and the Caribbean.
Maize is processed and prepared in various forms depending on the country. Ground maize is prepared into porridge in Eastern, Southern, and West Africa. In all parts of Africa, green (fresh) maize is boiled or roasted on its cob to fill the gap when the supply of grain is low.
Biotic and abiotic constraints
Various species of stem borers rank as the most devastating maize pests in SSA. They can cause 20–40% losses in the field and 30–90% losses in postharvest and during storage. Other pests in SSA include the ear borer, fall armyworm, cutworm, grain moth, beetle, weevils, grain borer, rootworm, and white grub. The parasitic Striga weed is another major problem, especially in SSA with 60–92% yield loss recorded in the Nigerian savanna. Maize diseases in SSA include downy mildew, rust, leaf blight, stalk and ear rots, leaf spot, maize lethal necrosis (MLN), and maize streak virus (MSV). The major abiotic constraints of maize production in SSA include drought, heat stress, low soil fertility, and soil acidity.
IITA's research and impact
IITA scientists have developed high yielding, disease and pest-resistant and nutritionally enhanced maize varieties that are adapted to the growing conditions in SSA. IITA's improved varieties, along with other production technologies, helped to stem the serious problem imposed on maize production due to the outbreak of maize streak virus (MSV) in the 1970s, which was considered a tremendous achievement that reversed a chronic food shortage. IITA scientists developed and released drought-tolerant varieties of maize across WCA countries. Currently, the drought-tolerant varieties are adapted by maize farmers and under production in different countries, making a tremendous impact in the lives of small-scale farmers in West and Central Africa (WCA).
Remarkable success was also achieved with the development of Striga and pest-resistant varieties of maize in Nigeria and Cameroon. The released varieties were able to reduce the emergence of Striga and resulted in good yield in areas most affected by the weed in both countries. In addition to the normal white maize, IITA scientists were also engaged in the development of nutritious varieties of maize. Many provitamin A rich OPVs and hybrids were released in WCA and beyond. The provitamin A enhanced varieties are well adapted and are as good as other normal white varieties in their yield potential, resistance to disease, and other economically important traits. These varieties are commended to combat malnutrition and diseases caused by micronutrient deficiency in a sustainable way.
Extra early, early, intermediate, and late-maturing varieties were developed and released with significantly higher yield compared to the local farmers' varieties. Early maturing varieties enabled maize production to expand into new areas, especially to the Sudan savannas where the short rainy season had adversely affected maize cultivation in the past. The intermediate and late-maturing varieties developed by IITA scientists are also popular among farmers and maize producers in the maize belt areas of WCA countries. IITA's postharvest researchers developed effective and simple machines and tools that reduce processing time and labor as well as production losses. They have also developed a natural biocontrol agent to make maize free of poisonous aflatoxins and made maize safe for consumption.
Capacity development
In West and Central Africa, IITA has contributed significantly to the capacity building of the national maize research programs, universities, private seed companies, and NGOs through long- and short-term training, the supply of improved maize varieties, parental lines and hybrids, engagement of partners in designing and implementation of a diversity of projects, sharing of diverse elite germplasm, and supporting promotion and demonstration of technologies to farmers and consumers.
Sorry, there was a YouTube error.
Related websites
aflasafe.com – Aflatoxin management website