Acting British High Commissioner visits IITA Ibadan
8 October 2021
The Acting British High Commissioner, Her Excellency, Ms
Gill Atkinson
, and her team visited
IITA
headquarters to familiarize themselves with the Institute's activities.
Hilde Koper, IITA Deputy Director General, Corporate Services, welcomed the team during the 27 August visit and introduced IITA activities, including its hub and youth programs. The group visited the Germplasm Health, Virology and Diagnostics Unit and Genetic Resources Center, and took a campus tour.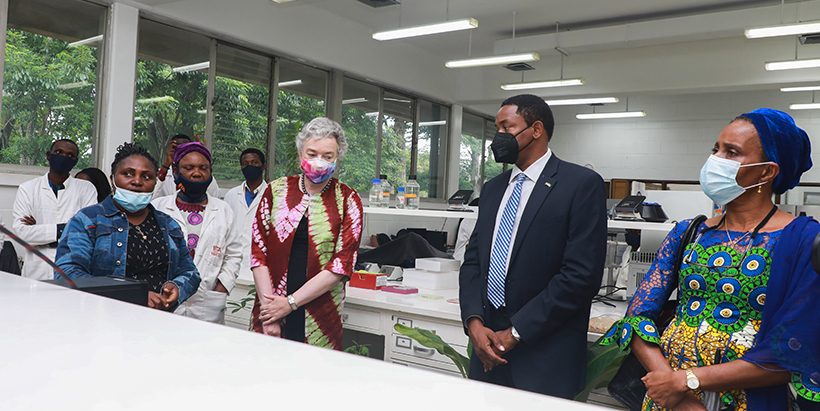 Morenike Abu, Legal and Compliance Manager, Project Development and Administrative Unit, gave an overview of the various collaborative undertakings with UK organizations and the United Kingdom. She highlighted projects involving IITA, such as the two-year project on agricultural policy research in Africa with the Institute of Development Studies in the University of Sussex and the Banana resistance variety project with Tropics Bioscience Limited. "We have had a very good partnership with the United Kingdom over the years and we hope that we will sustain this relationship either by will or general support through projects," she said.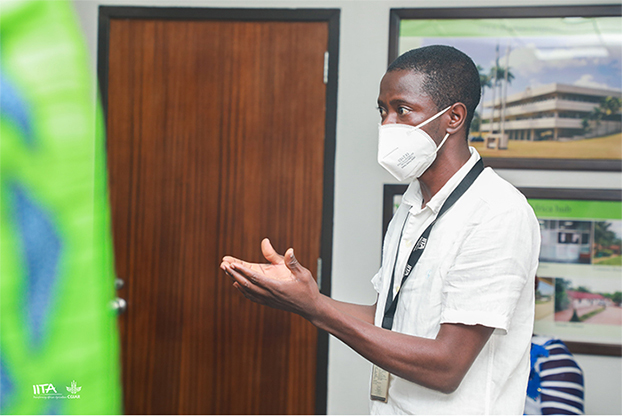 Michael Abberton, Research for Development (R4D) Director, IITA-West Africa, spoke on the Institute's R4D activities in West Africa. He said that IITA focuses on different aspects of climate change and how it affects plants and animals. Moreover, IITA produces adaptive varieties and seed systems and focuses on climate-smart agricultural technology. He highlighted the IITA Business Incubation Platform (BIP) specializing in commercializing technologies or incubating technologies and handing them over to the private sector.
Representing Frederick Schreurs, CEO of BIP, Victoria Ayeni briefly presented how BIP bridges the gap between research and dissemination. BIP focuses mainly on innovations such as crops and technologies developed by IITA. She highlighted the achievements and products BIP has upscaled to end-users through technology transfer, such as Aflasafe, Nodumax, GoSeed, and the current trade-up project with USAID.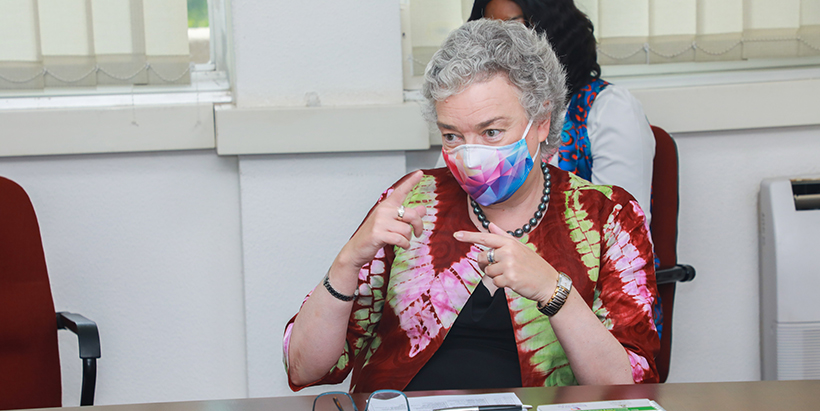 Oluyemi Adunoye, Coordinator of Youth Employment in Agribusiness and Sustainable Agriculture (YEASA), presented on Youth in Agribusiness. She reported that YEASA ensures that young people find sustainable employment in modern agriculture and are empowered with technical, soft, and entrepreneurial skills. In addition, Dennis Mulenga, IITA Director of Finance, said they would be engaged in basic financial management training to manage their loans.
Wale Awoyemi, IITA Forest Center Manager, highlighted different Forest Center projects, including the ethnobotanical garden, botanical nursery, biodiversity monitoring, natural resource conservation, and the ongoing Olokemeji Forest Reserve reforestation project in Ogun State. He also spoke about their successes, including protecting the endemic Ibadan Malimbe bird and the over 450 native trees species reserved and documented by the Forest Center.
Responding to efforts being carried out to conserve native plants and trees by IITA Forest Center, Ms Atkinson agreed that trees being propagated in Nigeria need to be indigenous. She was assured of getting indigenous seedlings from IITA the next time she takes up replanting conservation work.