ATAC!: New program to transform agriculture in Congo
25 June 2021
From 30 May to 10 June, IITA Director General
Nteranya Sanginga
embarked on a mission to Brazzaville, during which he engaged with the Head of State of the Republic of Congo, President Dénis Sassou Nguesso. He was accompanied by the DRC Country Representative
Zoumana Bamba
, Senior Country Engagement Officer Mpoko Bokanga, IITA Eastern Africa Director Emeritus
Victor Manyong
, and TAAT Cassava Value Chain Coordinator
Adebayo Abbas
.
The mission, a joint venture with the African Development Bank (AfDB) led by the Director of Agriculture and Agro-Industry Martin Fregene, was to prepare for "Agenda de Transformation de l'Agricole au Congo" (ATAC!), a three-year program initiated by President Nguesso. ATAC! will be supported by the AfDB and other international development partners and aims to directly reach 200,000 producers, including 40% of the country's farmers.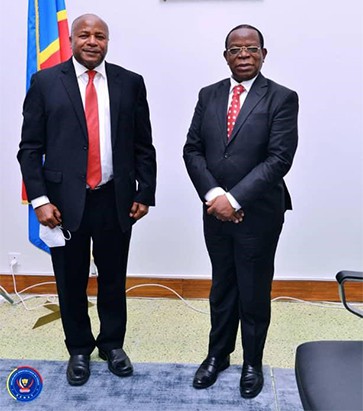 The accelerated program will cover the production, processing, and marketing value chains of the cassava, rice, maize, livestock, poultry, animal feed, and aquaculture sectors. ATAC! will also facilitate access to agricultural financing for agricultural producers to reduce the importation of products.
President Nguesso applauded the proposed name of the program, ATAC!, and requested the parties to move urgently to be ready for the upcoming planting season that starts in September. The Head of State appreciated IITA for its vast experience around the Continent and welcomed the idea of a Delivery Unit housed in the Presidency to monitor progress closely.
Prime Minister Anatole Collinet Makosso appreciated the inclusion of youth and women as an integral part of the agenda. He acknowledged that the ATAC! agenda is about realizing the dream of the Head of State.
During the mission, DG Sanginga also visited Kinshasa, Democratic Republic of Congo, where he met with the DRC Senate President, Mr Bahati Lukwebo. He discussed the vision of the African Agriculture Leadership Institute (AALI), seeking the support and sponsorship of AALI in the DRC by the President, His Excellency Felix Tshisekedi.